More than a cafeteria
The Mission's Webster Pavilion is home to Galerie Carlos. The gallery is an initiative of Carlos Anglarill, counsellor at the Mission since 2005 and the gallery's first curator at its inception in 2009. Every six weeks, the cafeteria walls are decked with original creations that can be admired by Mission clients, staff and volunteers.
Since the gallery's re-opening in October 2016, artists Karen Hosker and Susan Porter have been curating the gallery, selecting unique and imaginative pieces from Montreal artists. Additionally beautified by recent renovations, the cafeteria has been enhanced into a space meant for enjoyment as well as for its practical use. Read more about the gallery's re-opening here.
Part of the city's cultural scene
In March 2014, the Mission's Webster Pavilion took part in the 15th annual MONTREAL EN LUMIÈRE festival by inviting the public to visit its facilities.
During the festival's Nuit blanche closing celebration, Montrealers got to see another facet of the Mission: the works of seven local artists adorned the walls of its cafeteria and adjoining Café Mission, transforming the space into a contemporary art gallery. Works were chosen based on quality and originality, as well as for their sensitivity to the reality experienced by homeless people. Mission staff and volunteers were on site to greet guests and accept donations.
Current Artist
Lise Bousquet & Edith Larochelle
lisebousquet.com  |  edithlarochelle.wordpress.com
April 18 – May 30, 2018
Biography | Lise Bousquet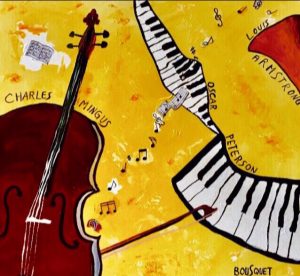 Lise Bousquet was born in Canada, and presently resides in Montreal.  She is a member of the MASF (Miniature Art Society of Florida) and Kirkland Artists' Association.  Born of artist parents, she finds oil & acrylic painting to be a very exciting and stimulating art form. Among the subjects she paints are Hearts, Still life, Landscapes & Flowers.
"I orchestrate and  compose a  bright and  vivid palette in my paintings. Curiosity, surprise & excitement are important reactions I strive to evoke in the public when viewing my art."
Instagram: Lise Bousquet             Facebook: www.lise.bousquet.92@facebook.com
Biography | Edith Larochelle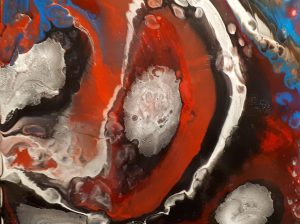 Edith Larochelle was born in Montreal. Her interests for the Arts started very young with drawings.  She paints with acrylic and love all the new techniques of mixed media.
She is the Vice-president of Kirkland Artists Association and also an executive member of the Artists's Circle of the West Island. She offers workshops and art demonstrations and organized collective paintings in corporate offices and in schools.
Facebook: Edith Larochelle
Associations:
http://www.artistscirclewestisland.ca
http://www.artkirkland.com/
Lineup
Isabelle Lauzon Miltioux www.miltioux.com
May 30 – August 8, 2018
Theresa Passarello theresapassarello.com
August 8 – September 19, 2018
Dany Bouchard danyartiste.com
September 19 – November 14, 2018
Francesca Trop francescatrop.com
November 14, 2018 – January 9, 2019
Follow our Facebook page to stay up-to-date with events at Galerie Carlos!
---
Interested in displaying your work in our gallery?
Please contact galeriecarlos@gmail.com with your contact information as well as a link to your website or portfolio.