More than a cafeteria
The Mission's Webster Pavilion is home to Galerie Carlos. The gallery is an initiative of Carlos Anglarill, counsellor at the Mission since 2005 and the gallery's first curator at its inception in 2009. Every six weeks, the cafeteria walls are decked with original creations that can be admired by Mission clients, staff and volunteers.
Since the gallery's re-opening in October 2016, artists Karen Hosker and Susan Porter have been curating the gallery, selecting unique and imaginative pieces from Montreal artists. Additionally beautified by recent renovations, the cafeteria has been enhanced into a space meant for enjoyment as well as for its practical use. Read more about the gallery's re-opening here.
Part of the city's cultural scene
In March 2014, the Mission's Webster Pavilion took part in the 15th annual MONTREAL EN LUMIÈRE festival by inviting the public to visit its facilities.
During the festival's Nuit blanche closing celebration, Montrealers got to see another facet of the Mission: the works of seven local artists adorned the walls of its cafeteria and adjoining Café Mission, transforming the space into a contemporary art gallery. Works were chosen based on quality and originality, as well as for their sensitivity to the reality experienced by homeless people. Mission staff and volunteers were on site to greet guests and accept donations.
Current Artist
France Trudelle francetrudelle.com
February 21 – April 18, 2018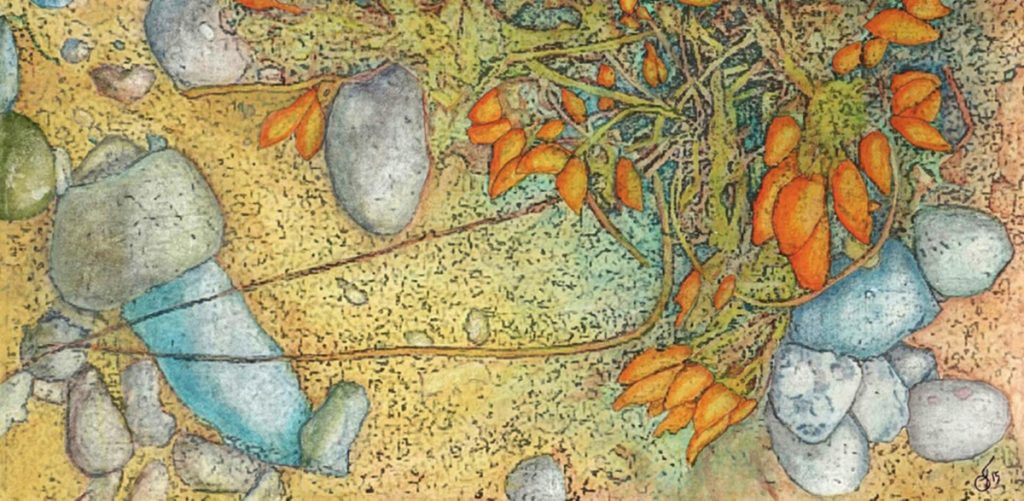 Biography
My interest in Arts manifested in early childhood through all the activities I enjoyed. I drew everywhere and on anything I could get my hands on! I also studied dance for 10 years and the rest of the time, my nose was forever buried in a book! It's safe to say that I couldn't get enough of art in all of it's forms!  It is not surprising then that I decided, much later and as a mother of two young children, to go back to my roots.  So  I  got  a  certificate  in  Visual  Arts  at  UQAM University. Subsequently admitted in the Bachelor's degree in Art Education, I successfully completed all the creative courses  including  drawing,  painting  and sculpting as  well  as  the  major  part   of   the   didactic   portion   of   the program.  Unfortunately, various circumstances prevented me from completing my very last term and actually becoming an art teacher. But more than ever the artist in me had a visceral need to create! Passionnate about cooking and seduced by the sensual and inventive aspect of the Culinary Arts, I reoriented myself and completed professional studies at the ITHQ in June 1998. I thouroughly loved my twelve years in this field as I was able to earn a living while doing something very creative (and delicious) everyday!
Oddly enough, it was while strolling on a beautiful beach of the Magdalene Islands that I finally renewed with visual arts per say! Forever attracted by photography, it is through this medium that my artistic eye suddenly caught a small detail, a little nothing… that changed everything! Now a passionate traveler, I use my pictures by numerically transforming them in order to get a black and white image which I print and proceed to tranfer, by hand, on a canvas! And then… get ready for color!  This technique also allows me to transform anyone's favorite picture into a WORK OF ART!!!  WELCOME TO MY UNIVERSE!
Lineup
Lise Bousquet & Edith Larochelle
lisebousquet.com  |  edithlarochelle.wordpress.com
April 18 – May 30, 2018
Isabelle Lauzon Miltioux www.miltioux.com
May 30 – August 8, 2018
Theresa Passarello theresapassarello.com
August 8 – September 19, 2018
Dany Bouchard danyartiste.com
September 19 – November 14, 2018
Francesca Trop francescatrop.com
November 14, 2018 – January 9, 2019
Follow our Facebook page to stay up-to-date with events at Galerie Carlos!
---
Interested in displaying your work in our gallery?
Please contact galeriecarlos@gmail.com with your contact information as well as a link to your website or portfolio.