More than a cafeteria
The Mission's Webster Pavilion is home to Galerie Carlos. The gallery is an initiative of Carlos Anglarill, counsellor at the Mission since 2005 and the gallery's first curator at its inception in 2009. Every six weeks, the cafeteria walls are decked with original creations that can be admired by Mission clients, staff and volunteers.
Since the gallery's re-opening in October 2016, artists Karen Hosker and Susan Porter have been curating the gallery, selecting unique and imaginative pieces from Montreal artists. Additionally beautified by recent renovations, the cafeteria has been enhanced into a space meant for enjoyment as well as for its practical use. Read more about the gallery's re-opening here.
Part of the city's cultural scene
In March 2014, the Mission's Webster Pavilion took part in the 15th annual MONTREAL EN LUMIÈRE festival by inviting the public to visit its facilities.
During the festival's Nuit blanche closing celebration, Montrealers got to see another facet of the Mission: the works of seven local artists adorned the walls of its cafeteria and adjoining Café Mission, transforming the space into a contemporary art gallery. Works were chosen based on quality and originality, as well as for their sensitivity to the reality experienced by homeless people. Mission staff and volunteers were on site to greet guests and accept donations.
Current Artist
William Tully 
January 9 – March 6, 2019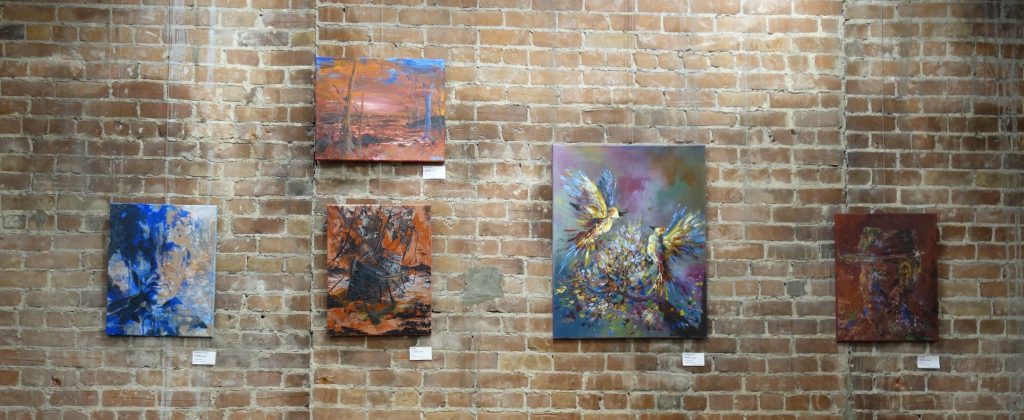 Biography
Young 21 year old artist, William is a design student from Montreal who's been developing for the past years his own art on the canvas. As a strong enthusiast of urban art and modern art in general, William tries to generate in an expressive manner the fruit of his creativity.
Self-taught, it's with experimentation and an open-mind that he tries to create diverse pictures as a manifestation of his passion for art. His singular style is inspired from a mix of different contemporary artists surounding him and his vibrant colors give a dynamic feel to his paintings.
Picking from a series of different and innovative techniques, his pictures are painted in a spontaneous way, giving them an energy that catches the eye. Creating a mix of textures, he is able to give character and movement to his material.
Exploring a sequence of different subjects, this exposition holds elements from both the abstract and figurative realm, stiring a variety of emotions. By working with light, contrast and texture effects, William gives us a glimpse of his creative vision.
Lineup
Shari Blaukopf | shariblaukopf.com
March 6 – May 1, 2019
Suzanne Belair | suzannebelair.com
May 1 – June 26, 2019
Patricia Morris | patricia-morris.net
June 26 – August 21, 2019
Ingrid Black | ingridblack.com
August 21 – October 16, 2019
Follow our Facebook page to stay up-to-date with events at Galerie Carlos!
---
Interested in displaying your work in our gallery?
Please contact galeriecarlos@gmail.com with your contact information as well as a link to your website or portfolio.