More than a cafeteria
The Mission's Webster Pavilion is home to Galerie Carlos. The gallery is an initiative of Carlos Anglarill, counsellor at the Mission since 2005 and the gallery's first curator at its inception in 2009. Every six weeks, the cafeteria walls are decked with original creations that can be admired by Mission clients, staff and volunteers.
Since the gallery's re-opening in October 2016, artists Karen Hosker and Susan Porter have been curating the gallery, selecting unique and imaginative pieces from Montreal artists. Additionally beautified by recent renovations, the cafeteria has been enhanced into a space meant for enjoyment as well as for its practical use. Read more about the gallery's re-opening here.
Part of the city's cultural scene
In March 2014, the Mission's Webster Pavilion took part in the 15th annual MONTREAL EN LUMIÈRE festival by inviting the public to visit its facilities.
During the festival's Nuit blanche closing celebration, Montrealers got to see another facet of the Mission: the works of seven local artists adorned the walls of its cafeteria and adjoining Café Mission, transforming the space into a contemporary art gallery. Works were chosen based on quality and originality, as well as for their sensitivity to the reality experienced by homeless people. Mission staff and volunteers were on site to greet guests and accept donations.
Current Artist
Shari Blaukopf
shariblaukopf.com | blaukopfwatercolours.com | @sharisketcher
March 6 – May 1, 2019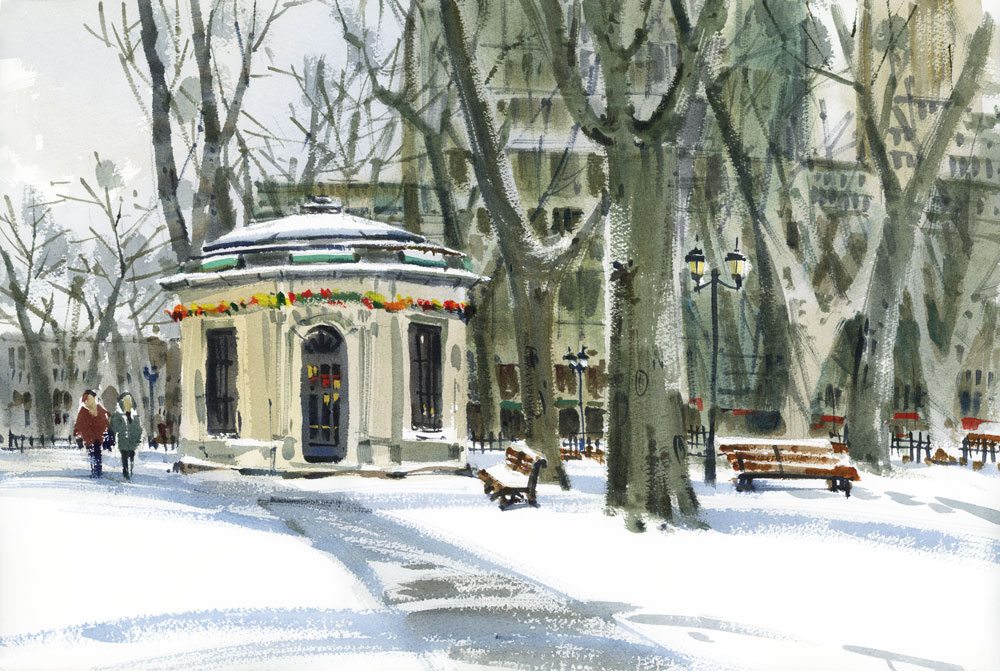 Biography
Shari Blaukopf, a Montreal-based painter, graphic design teacher, illustrator and art blogger, is best known for her urban scenes in watercolour. She has a BFA from Concordia University with a specialization in graphic design, but her true love has always been watercolour painting. She began painting in her teens and is fortunate to have studied with some of the greats: Edgar A. Whitney, Frank Webb, Skip Laurence, Milford Zornes and Frederick Wong.
She is a signature member of the Canadian Society of Painters in Watercolour, a member of the Lakeshore Association of Artists and you can find her online courses Sketching Landscapes and Sketching the City on Craftsy.com. Her watercolours are in corporate, government and private collections in Canada, the United States and in other countries. She is co-founder of Urban Sketchers Montreal and has given many watercolour workshops both on her own and through the Urban Sketchers Workshop Program in Montreal, Galway, New York, Portland, Barcelona, Singapore, Manchester, Chicago and Porto.
Shari's book, "The Urban Sketching Handbook: Working with Color," will be published by Quarry Books in spring 2019.
Shari grew up and still lives in Montreal, where she continues to discover neighbourhoods in her quest to find the best streets and back alleys to sketch. She spends her winters teaching graphic design at Vanier College and her summers painting and giving plein air workshops.
Lineup
Suzanne Belair | suzannebelair.com
May 1 – June 26, 2019
Patricia Morris | patricia-morris.net
June 26 – August 21, 2019
Ingrid Black | ingridblack.com
August 21 – October 16, 2019
Beatrice Cluney | facebook.com/expressionsbybeatrice
16 octobre – 11 décembre 2019
Shelley Freeman & Beverly Farley
shelleyfreeman.ca | beverlyfarleyarts.com
December 11, 2019 – February 5, 2020
Follow our Facebook page to stay up-to-date with events at Galerie Carlos!
---
Interested in displaying your work in our gallery?
Please contact galeriecarlos@gmail.com with your contact information as well as a link to your website or portfolio.