More than a cafeteria
The Mission's Webster Pavilion is home to Galerie Carlos. The gallery is an initiative of Carlos Anglarill, counsellor at the Mission since 2005 and the gallery's first curator at its inception in 2009. The cafeteria walls are decked with original creations that can be admired by Mission clients, staff and volunteers.
Featured Artist
Bob Venafro | venafrobob.com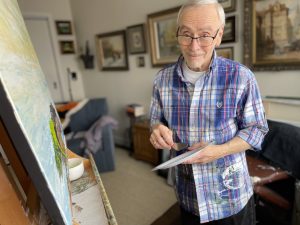 ABOUT THE ARTIST
Bob Venafro retired from financial services in 2012. During this time, he discovered a natural talent for painting. Since 2016, Bob has exhibited his collections every other year. His next collection is scheduled for 2024.
OPENING
Come and discover Bob Venafro's work at the exhibition vernissage on Thursday, May 25th at 7pm, at 902 Saint-Laurent Boulevard.
Bob is offering artwork for sale for $50, with all benefits going to the Old Brewery Mission.
To buy a painting, or for more information, you can contact the artist with the adress info@venafrobob.com
Follow our Facebook page to stay up to date with events at Galerie Carlos!
---
Interested in displaying your work in our gallery?
Please contact pvandenbosch@missionoldbrewery.ca with your contact information as well as a link to your website or portfolio.