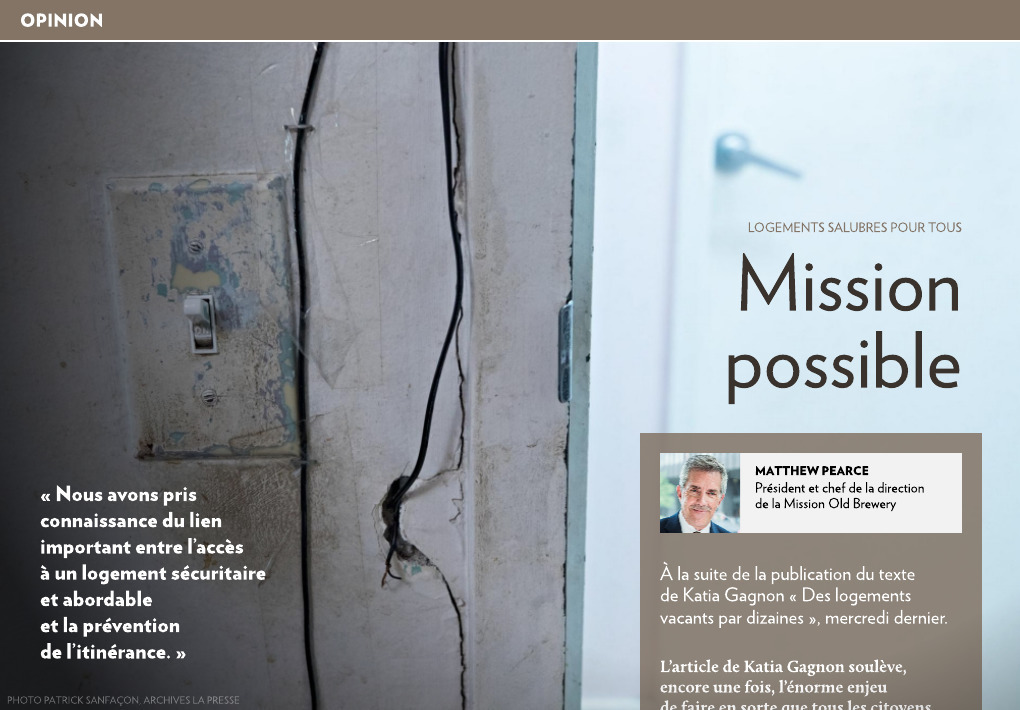 English version of opinion letter published in La Presse on Wednesday October 31, 2018
By Matthew Pearce, CEO, Old Brewery Mission

The article by Katia Gagnon Des logements vacants par dizaines (Oct. 24, 2018) raises, yet again, the enormous challenge in ensuring that all citizens of Montréal can enjoy safe, hygienic and healthy housing.
Already the icy bite of autumn air heralds the coming winter months. It reminds us that we live in a part of the world where our very survival depends on adequate shelter and so, while we have seen such exposés in the past that Gagnon writes of, we cannot become inured to the injustice and the hardship that are part of the daily lives of far too many families and individuals in our city.
A lease is a covenant between the owner and the tenant, binding the one to pay faithfully and consistently for the right of access to accommodation in return for which the other pledges to maintain the unit in a livable, safe and respectful context. It is not only a legal arrangement; it is a moral one. Housing is a basic need. It is where families are created and where they grow and develop. It is where people express a part of their participation in their community and where a sense of neighborliness and neighborhood is nurtured.
And yet, articles such as Gagnon's pop up far too often – underlining the too frequent gap between legal and moral obligations and the living reality for some on the margins. It begs the kind of questions we cannot cease to raise until we get satisfactory responses:
How are building owners able to neglect their pact with their tenants?
How can they be permitted to let their buildings decay to the point of being uninhabitable?
Why does the City not intervene to punish owners or evict derelict ones?
With 23 000 families on a waiting list for social housing, how can the Office municipal d'habitation de Montréal (OMHM), who manages housing availability, participate in the neglect of so many of their apartment units?
Some time ago, the Old Brewery Mission learned that sheltering the homeless is not enough – solutions were needed for troubled people to improve their lives and return to society as full participants.
We learned that access to affordable housing was the cornerstone of any plan to reduce homelessness and to end chronic homelessness.
We also understood the important connection between access to safe, affordable housing and the prevention of homelessness in the first place.
In the pursuit of this vision, we discovered a few jarring realities. Last week, for example, an apartment at 1150 Marie-Anne was emptied of its 30 tenants, some of whom had called the place home for over 15 years. The owner had neglected the building, allowing it to become unsafe, unhealthy, bug-infested, moldy and so, dangerous. He had planned to renovate the place and charge higher rents and so, needed the current tenants out!
The City, in its turn, sided with the owner and, with two weeks' notice, evicted the tenants due to unsafe living conditions, making them twice victimized. Most were loaded on a City bus and taken to an arrondissement far from the neighbourhood they knew and put in a hotel for a couple of weeks, the time given to find new accommodations. The Old Brewery Mission helped one tenant to relocate to a new apartment without having to get on that bus. Another tenant showed up at our women's shelter – she had become homeless.
It seems to me that, if the City is going to be complicit in such adventures, it should side with the vulnerable, not the neglectful owner. It may mean foregoing higher property taxes once the building is renovated, but it is the right thing to do.
As for social housing, the City's OMHM must be given the resources that allow them to maintain the buildings under their care. They should be the hallmark of proper property management. The City must establish a policy framework that functions for all.
Who can argue that the current policy context is adequate? And, how many more articles such as Gagnon's will be required before these matters are taken in hand?