As we celebrate this International Women's Day, meet several inspiring Women of the Mission who are making a difference. At the Mission, women make up a proud 50% of our workforce. The scope of their work ranges from front-line work with homeless men and women to administrative duties to management roles. To top it off, women from all walks of life volunteer countless hours and provide the Mission with valuable expertise. We asked 16 of our female staff and volunteers what motivated them to join the Old Brewery Mission in the fight to end homelessness in Montreal. Here's what they had to say.
Accompanying People Towards a Better Future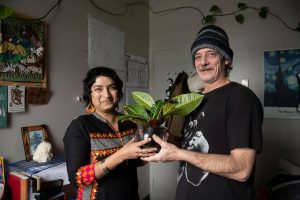 1. Ankitaa Rajaa
Psychosocial Counsellor, PASS Program
Ankitaa accompanies men living with hepatitis C and other serious illness towards recovery, residential stability and reinsertion in the community. She sees her role as a navigator, guiding each client towards his chosen destination. She also holds skill-building activities from caring for plants to learning to open up during 'tea time with your counsellor'.
"Passion for life itself keeps me motivated! It's helping people through all the ups and downs that keeps me going, and knowing that I can play my part in getting them from a place of despair to one of hope and accomplishment. I love creating opportunities for the participants to strengthen their social and life skills and build character and perseverance. My work gives me a sense of purpose and fulfillment. It helps me grow as well, and I'm very grateful for that."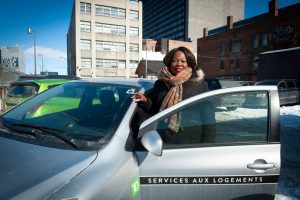 2. Désirée Kingulu
Intervention Counsellor, Social Housing
Désirée offers individualized psychosocial support to people who have experienced homelessness and who are now housed as part of our housing programs. She can often be found on the road, on her way to visit clients where they live.
"I feel that my work for social housing services makes a difference in people's lives. With some guidance and support, participants are better able to envision their life goals in the medium-term and then organize themselves to reach those goals, no matter how big or small. It's difficult for someone who's experienced homelessness to picture a brighter future after living their lives in survival mode, but I get to see it happen and that's very satisfying."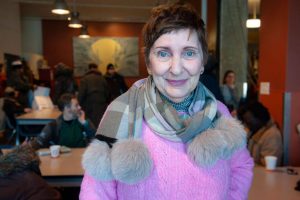 3. Linda Lalonde
Intervention Worker, Café Mission Keurig®
Linda offers active listening, warmth through smiles and laughter and above all, respect and dignity to all who walk through the doors of the café. In one word, she sees her work as humanizing. All her interactions with people aim to help empower them to better their lives.
"What motivates me to come to work every morning is simply the people who come to the café. Our clientele is very diverse and by learning about peoples' cultures, customs and distinct stories, I feel like it's an opportunity to understand and cultivate human relations, to build trust with people who often have very painful stories and refer them to the right resources for their individual needs. It can be very difficult to learn about people's baggage but highly rewarding when we see them make progress towards living better lives."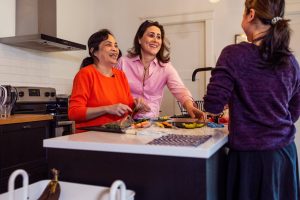 4. Nicole Graffe
Coordinator of social housing for women at the Lise Watier Pavilion (LWP)
Nicole manages the LWP and helps maintain the stability of women who live there through psychosocial support activities and follow-ups. She oversees all activities that take place at the Pavilion and has built strong relationships of trust with the women who live there, an indispensable part of making it home for each of them.
"It makes my day when I see a woman transition from shelter life to making her studio at the Pavilion her home. It can take a long time to see that whole process take place, but when someone finally feels a sense of belonging and they say to me, 'Nicole, come see my apartment! Look the flowers I bought for my home,' that makes it all worth it."
Bringing Mental Healthcare to Streets and Shelters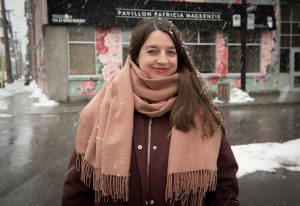 5. Dr. Lison Gagné
Psychiatrist, Projet de réaffiliation en itinérance et santé mentale (PRISM) and Suivi intensif en itinérance (SII) programs
Dr. Gagné provides psychiatric treatment and follow-ups at the Mission to people who are experiencing homelessness and who are suffering from severe mental illness, as well as out on the street. With her help, participants move on to living healthier, more stable lives.
"Collaboration and solidarity between the health care system and homeless resources make all the difference in the world. We harmonize in a dance in which we integrate the people we help. We're much stronger together—it's been proven! I'm proud to be part of this partnership that has grown and flourished over the years."
Getting the Word Out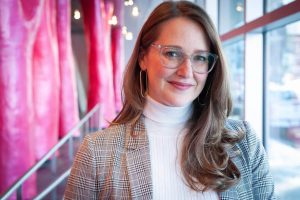 6. Melissa Bellerose
Director of Communications and Public Affairs
Melissa uses her expertise in communications and public affairs to promote the Mission through various channels and sensitize the public to homelessness—its realities, causes and solutions. She makes sure that the Mission and its spokespersons are out there in the media reaching as many Montrealers as possible.
"The image of a lone, bearded man begging and sleeping on the streets has often been used by the media and fundraisers to depict homeless people. This not only perpetuates a false understanding of homelessness, it's outright dehumanizing. I've made it my mission to combat these stereotypes through awareness-raising campaigns and other communications initiatives that aim to drive real social change."
Innovating and Leading Teams on the Frontlines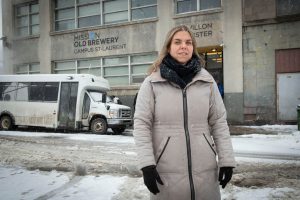 7. Émilie Fortier
Director of Services, Saint-Laurent Campus
Émilie heads our emergency services from men, comprising 286 emergency overnight beds, meal services, urban health programs and our shuttle service that transports homeless men and women to and from resources around the city. She oversees the teams of intervention workers and counsellors who work around the clock on the front lines with some of our most vulnerable citizens.
"It's a privilege to have the chance to reflect and implement solutions to overcome homelessness and to accompany these people who, too often, are left to fend for themselves. On a daily basis, this translates into trying to give back confidence and hope to every human being who walks through our doors. It's our responsibility to make their journey out of homelessness easier."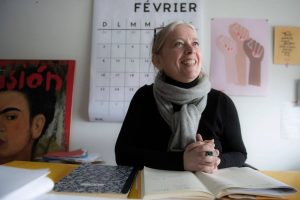 8. Florence Portes
Director of Women's Services
Florence runs our Women's Services, which include emergency services at our Patricia Mackenzie Pavilion, housing programs Les Voisines dans la communauté, Les Voisines de Lanaudière and social housing at the Lise Watier Pavilion. She is dedicated to supporting her incredible staff so that together, they can provide the best possible services to women and empower them in their efforts to leave homelessness behind.
"Above all, our work is a collective adventure. I'm surrounded by an extraordinary team of women with a fierce desire to make a positive difference in the lives of our most vulnerable fellow citizens. It's a great privilege to gain the confidence of the ladies we help, to share a slice of their lives. They're so inspiring in their ability to rise above difficult situations, so creative, funny and combative. I see our work as a social and human commitment that leaves an indelible mark on our respective lives."
Keeping Everything Running Smoothly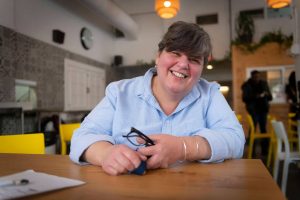 9. Chantal Rollin
Assistant to the Director of Women's Services
Chantal supports Florence, Director of Women's Services, in managing the teams who keep the services and programs running. She ensures the Patricia Mackenzie Pavilion is always adequately staffed—it's a 24-hour a day operation—and fills in the gaps where necessary to help women in need.
"It brings me immense pleasure to provide all the support I can for the teams and volunteers that make up our women's services. Knowing that every day, every hour I put into my work, I'm contributing to helping vulnerable women who otherwise might not have the tools or encouragement to find their way off the street. That's incredibly satisfying."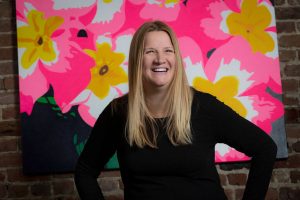 10. Paula Van Den Bosch
Executive Assistant to the President & CEO
Paula handles vital administrative tasks and supervises a team of dedicated clerical professionals. She's a team player, providing administrative support to all departments whenever necessary in order to accomplish our organizational objectives.
"What motivates me most to come to work every morning is hearing about all the good work we are doing to help end homelessness. It especially hits home when I hear it straight from the mouths of those who matter most to us—our clients! When I walk through our pavilions and someone stops me to tell me how much of a difference we're making to help them through rough times, that's when I know I'm at the right place."
Cultivating and Growing Talent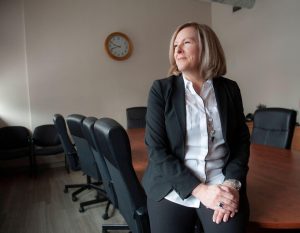 11. Dany Dépatie
Director of Human Resources
In addition to exercising an advisory role in human resources management and labour relations, Dany oversees all workforce planning, staffing, training and compensation activities. She and her team ensure that all departments can count on the talent and dedication that characterizes every employee at the Mission.
"Having worked in all areas of human resources management, I am pleased to share my skills and expertise to further our mission to end homelessness. My goal is to foster harmonious and constructive staff relationships so that we can give the best of ourselves to the homeless men and women who come to us seeking help to get back on their feet."
Feeding Hearts and Bellies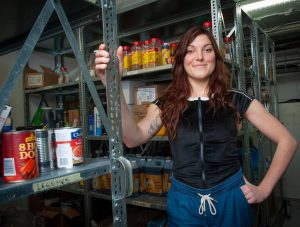 12. Catherine Vachon
Head of Food Services
Catherine manages the food services for the Webster, Patricia Mackenzie and Andrée and Roger Beaulieu pavilions. That adds up to hundreds of meals, three times a day, 365 days a year. As a trained nutritionist, she makes sure meals are as balanced as can be as she plans the menus working with food almost entirely donated from Moisson Montréal.
"In one short sentence, my job consists in bringing well-being to people in need through healthy and comforting meals. I believe that eating is the most important thing we do on any given day, and when we eat well, we feed our souls. I hope our balanced meals can help people in need regain some balance in their lives."
Building and Sharing New Knowledge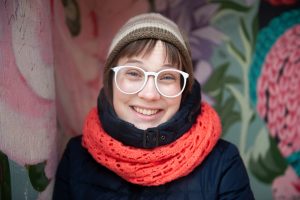 13. Hannah Brais
Research Coordinator
Hannah's work consists of ensuring that the Mission continues to be a leader in evidence-based practices for homelessness through critical and sound research practices. She works alongside Florianne Éthier, our Homeless Individuals and Families Information System (HIFIS) database guru, to collect the raw data essential to her research.
"Beyond getting to do the extremely gratifying job of representing homeless individuals through research that comes directly from them, I have the pleasure of working with a team that places their utmost faith in what research can do to help us end homelessness. No day is ever the same in the research department and it's immensely satisfying to work in an organization that challenges the status quo. I would not have it any other way."
Leading and Guiding Through Expertise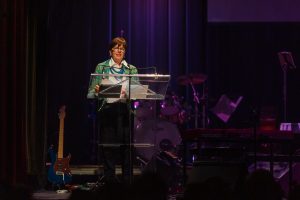 14. Dominique Lambert
Member of our Board of Directors and our Communications and Marketing Committee and Chair of our Services for Women Advisory Committee
Dominique lends her expertise as a communications and public affairs specialist to the Mission on a regular and voluntary basis. She participates in discussions to set strategies and evaluate objectives for various areas of activity of the Mission's programs and services.
"I was first asked by an old friend to join her on the Mission's Women's Services Committee, which organizes a fundraising event every two years. I knew little about the organization other than that it was helping people who were homeless. As I became involved, I was struck by the enormous needs of the clientele we were reaching out to. And I was impressed by the great respect shown by all those involved in the Mission to these women who have too often been rejected to allow them to regain their dignity and rebuild their lives."
Bringing Art and Beauty into the Lives of Many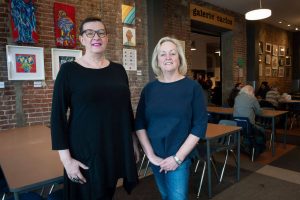 15 & 16. Karen Hosker and Sue Porter
Volunteer Curators of Galerie Carlos
Karen and Sue bring artists together who are sensitive to our cause, sharing their beautiful art with the Mission, whether at Galerie Carlos or at their Annual Square Foot Exhibition Fundraisers. Artists themselves, they make sure there are always unique and imaginative pieces in the dining room by local artists, creating a welcoming space for visitors to enjoy meals.
"We hope that Galerie Carlos brings some pleasure to those who use the cafeteria. People frequently speak to us while we are hanging a new exhibition. These interactions are often positive comments about a piece of art work, either a feeling it generates or a memory that it jogs. It is this that makes the project worthwhile, knowing that art stirs something in the imagination of the clients."
Happy International Women's Day
The women featured here provide but a glimpse of our female workforce and volunteers. Each of them are Women of the Mission and make a big difference in the lives of the homeless men and women we serve. We're proud to celebrate them and the immeasurable value they bring to our work in the fight to end homelessness this International Women's Day.
---
Feeling inspired by the Women of the Mission who are making a difference in homelessness in Montreal? You can make a difference, too, by volunteering, organizing an event or making a donation.