The Old Brewery Mission Mobile Health Clinic, powered by TELUS Health 
Credit: Martin Laporte
 Montreal – Today, TELUS, in partnership with the Old Brewery Mission, announced the launch of the newest Health for Good mobile health clinic, working together to help marginalized Montreal residents and communities with free healthcare services as well as social and housing-related support. The rising cost of living, the decreasing number of affordable housing units in Montreal and the lack of space in emergency accommodations have brought the number of Montrealers experiencing homelessness to record levels. It's estimated about 6,000 individuals experience homelessness on any given night in Quebec, most of whom are in Montreal, and face barriers accessing medical and psychosocial support. The Old Brewery Mission Mobile Health Clinic, powered by TELUS Health, reaffirms TELUS' commitment to ensuring that Montrealers in need have access to immediate, high-quality care. In addition, TELUS is increasing its commitment to its Health for Good program, with $13M dedicated through 2026.   
"At TELUS, we're using our world-class technology to transform healthcare, enabling better health outcomes for our Montreal communities," said Martin Bélanger, Managing Director, TELUS Health. "Through our partnership with the Old Brewery Mission, we're helping remove barriers for marginalized people in the Montreal region, providing them with access to the quality care they need. With our increased commitment of $13 million through 2026, we're continuing to expand our Health for Good mobile clinic program across Canada, enabling us to support more individuals in need. By combining technology with human compassion, we are bringing healthcare directly to the communities and people who need it most, providing critical care and helping create a friendlier future for all." 
"We're excited about offering such a wide variety of cohabitation and reintegration support services to people experiencing homelessness in Montreal through our partnership with TELUS Health for Good," says James Hughes, president and CEO of the Old Brewery Mission. "Initiatives like the Old Brewery Mission Mobile Health Clinic, powered by TELUS Health, allow us to connect with the most vulnerable and support them towards rehousing. The services offered by the clinic, made possible with support from key community partners, are adapted to the needs of people experiencing homelessness in Montreal: primary healthcare, psychosocial support and housing help. By coming together, we're ensuring that marginalized Montrealers have low-barrier access to high-quality services to help them find a permanent home." 
The Old Brewery Mission is working with Accueil Bonneau to lead this innovative new model of care. In addition, working in partnership with The Mobile Legal Clinic, McGill's Ingram School of Nursing and other community players, the team will provide low-barrier services, focusing on three key priorities: 
Physical healthcare services and psychosocial support, including access to preventative testing, wound care, harm reduction services and referrals for a wide variety of mental health and addiction services;

 

Support for cohabitation and reintegration, including referral to local support and emergency services, legal services and administrative support, such as enrollment to the Régie de l'assurance maladie du Québec (RAMQ) and assistance with applying for financial aid, and;

 
Rehousing-related support, including tax return preparation, access to identification documents and housing applications.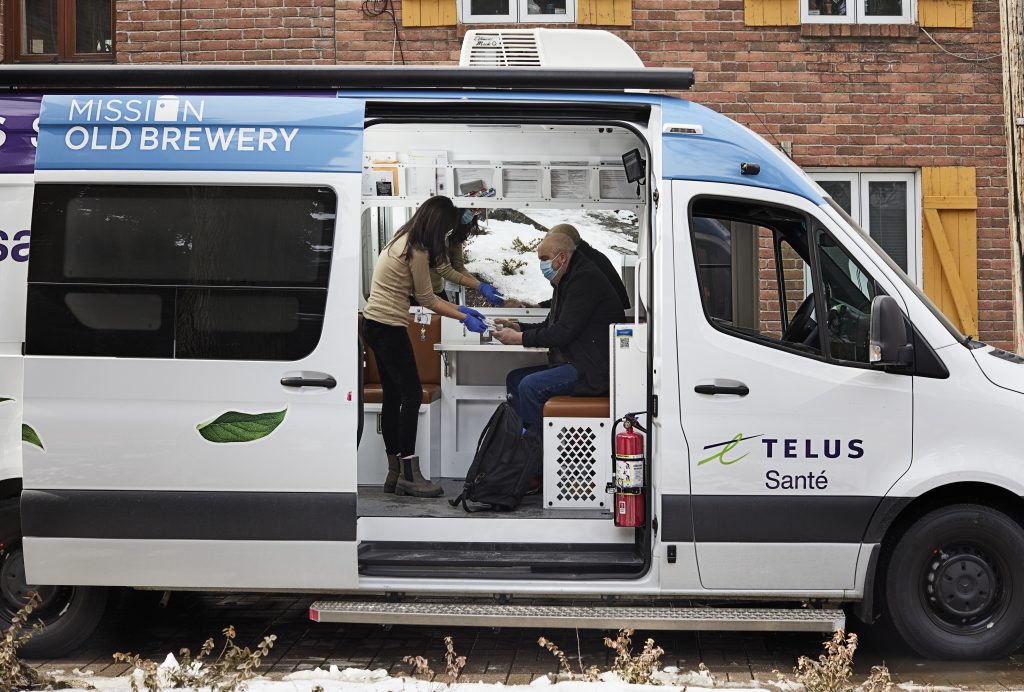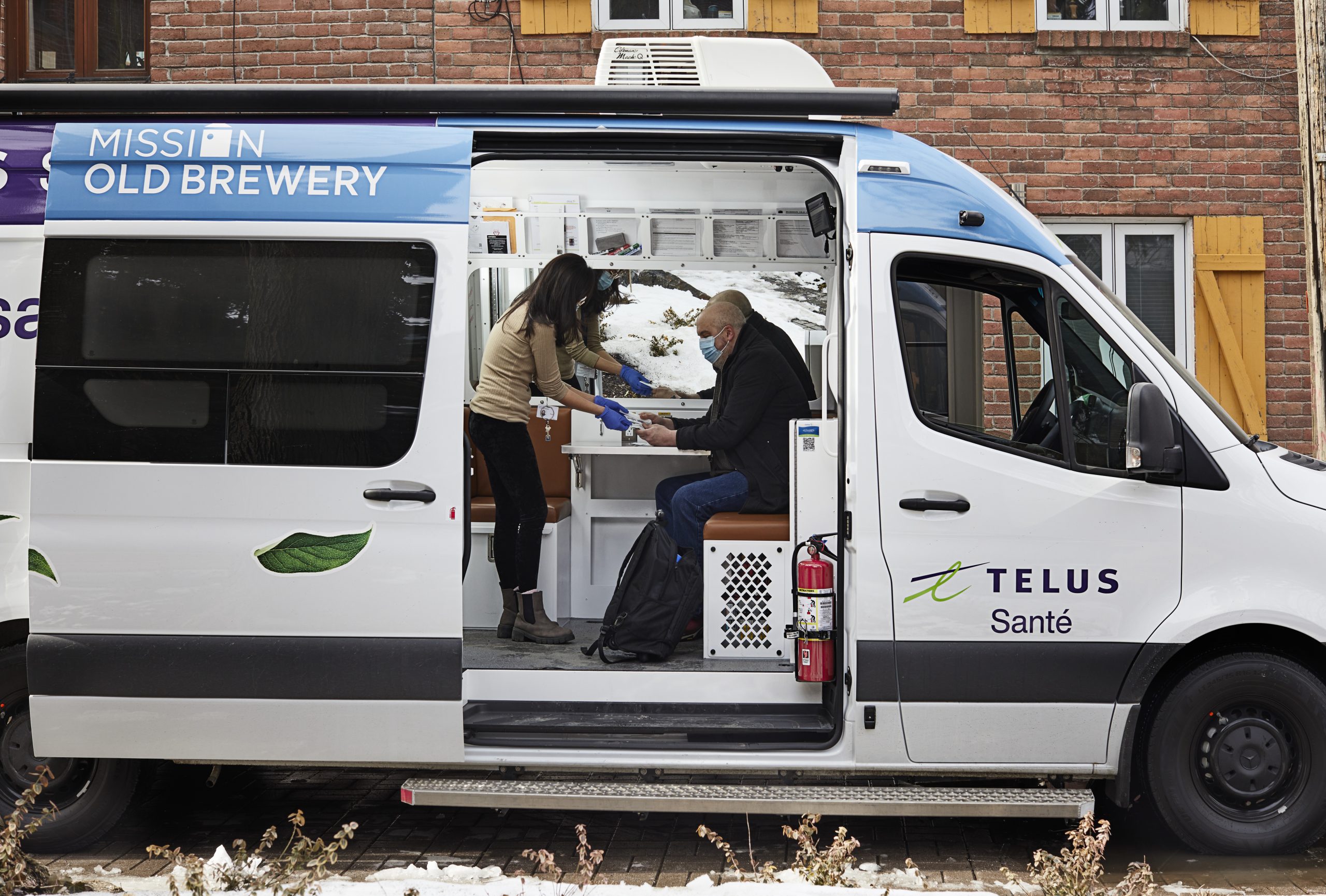 The Old Brewery Mission Mobile Health Clinic, powered by TELUS Health 
Credit: Martin Laporte
This mobile health clinic, and others across the country, are equipped with TELUS Health electronic medical record (EMR) technology. The TELUS Health EMR will enable clinic staff to collect and store health data, examine results over time, and provide better continuity of care to patients who previously had undocumented medical histories. The clinic is also equipped with TELUS LTE Wi-Fi and TELUS Mobility services. The space is divided into two main areas: one for patient reception and consultative services, and a second private and more spacious area, with an examination table and a provider workstation. This design will allow the team to treat patients with the dignity and respect they deserve. 
With this announcement, TELUS is increasing its program commitment to $13 million through 2026. TELUS Health mobile clinics now operate in 24 communities across Canada and have enabled over 150,000 patient visits Canada-wide.
To learn more about how TELUS is creating better health and wellbeing outcomes for all, visit telus.com/healthforgood.