Vermont Public Radio's "Weekly Conversation on the Arts" with Mary Williams interviewed artist Denise Buisman Pilger and the Old Brewery Mission's President and CEO, Matthew Pearce. Denise Buisman Pilger, also known as the Artist Abroad, has contributed her artwork to the Mission's Galerie Carlos.
Pilger's mixed media cityscapes layer photographs from her travels with colorful bursts of saturated acrylic paint. "I feel that here, [my art] gets to enhance the space… and is much more appreciated, " she says.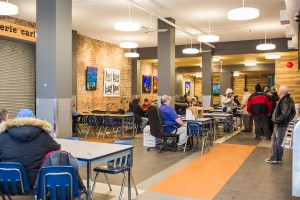 "We wanted to introduce new themes and new ideas that gave hope, respect and dignity back to people who had lost it," said Matthew Pearce as he explained how the gallery exemplifies the Mission's values.
Her solo exhibit will be displayed on the cafeteria walls for clients, staff and volunteers to admire until January 11, 2017.
Read more and listen to the full interview here.