The Old Brewery Mission's mobile health clinic, powered by TELUS Health, provides free health, living and reaffiliation support services to the most vulnerable people experiencing homelessness in Montreal.
The number of people experiencing homelessness in Montreal is constantly increasing due to the high cost of living, lack of affordable housing, limited space in emergency shelters and other socio-economic factors. It is estimated that approximately 6,000 people are visibly homeless every night in Quebec, the majority in Montreal, and have difficulty accessing medical and psychosocial care. The mobile health clinic is an innovative response to this situation.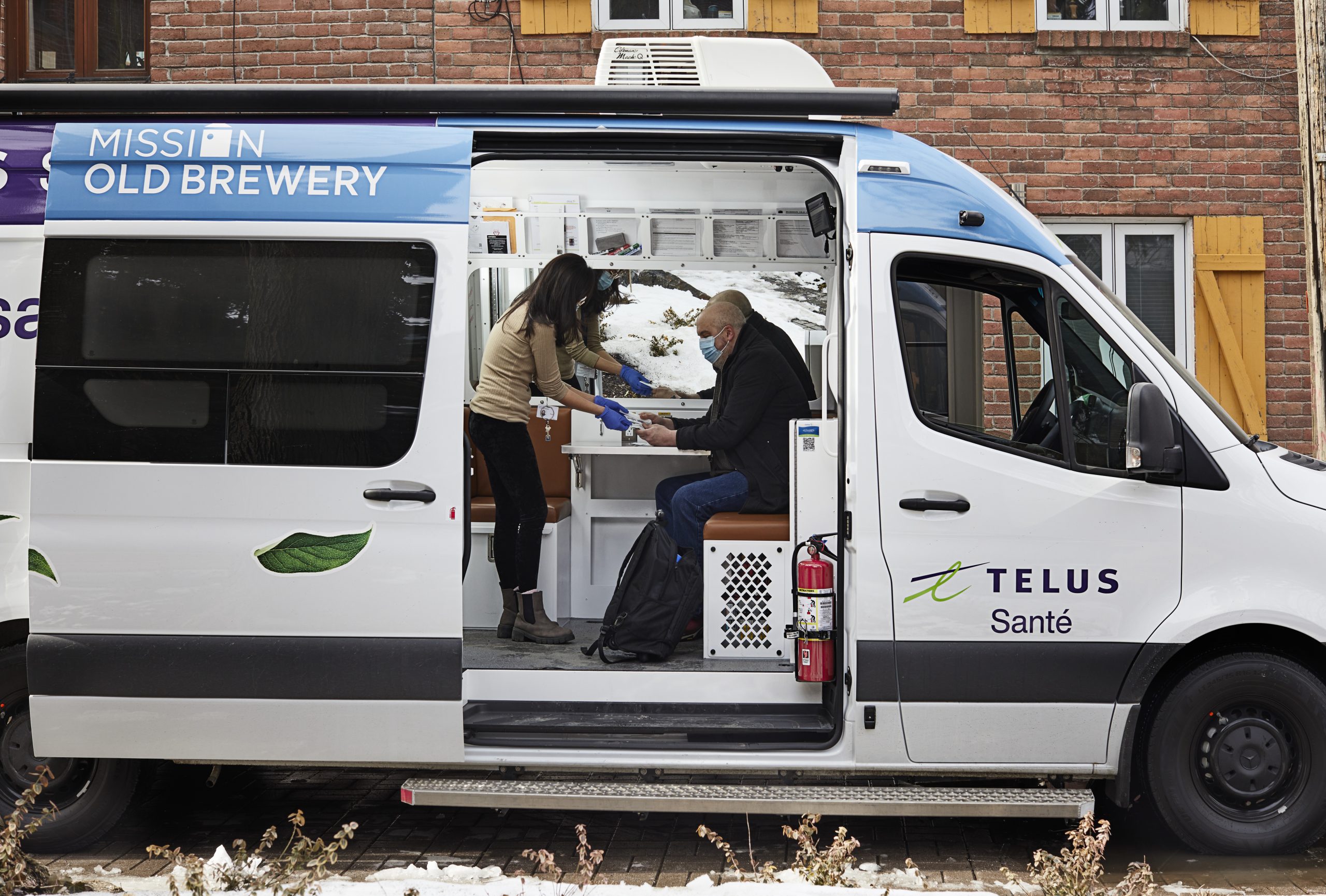 The intervention team from Mission Old Brewery is collaborating with Accueil Bonneau on the mobile health clinic to provide psychosocial support services to Montrealers in need.
Together with other partners, including the Itinerant Legal Clinic and the Ingram School of Nursing at McGill University, we are offering services focused on three key priorities:
Physical health care and psychosocial support, including preventive examinations, harm reduction services and referrals to other health services.
Co-habitation and reintegration support services, including referrals to local support, legal services, and assistance with paperwork such as RAMQ enrollment.
Rehousing-related support, including tax return preparation, access to identification documents and housing applications.

 
OPERATING HOURS
From Monday to Friday
From 9am to 5pm
About TELUS Health for Good
Since 2014, TELUS Health for Good has been connecting underserved individuals to the medical and mental health care they need using the power of technology. Equipped with TELUS electronic medical records technology, and fuelled by compassion, Mobile Health Clinics provide essential primary medical care to individuals living on the streets and have supported over 150,000 patient visits since the program's inception. The program also supports women experiencing marginalization with access to free TELUS Health MyCare™ counselling sessions and supports low-income older adults to live more independently and enjoy peace of mind with subsidized access to TELUS LivingWell Companion™.
To learn more visit telus.com/healthforgood.