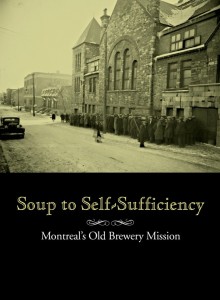 The release of the special publication Soup to Self-Sufficiency illustrates different periods in Montreal's history and plunges the reader 125 years back, when two Montreal women, Mina Douglas and Eva Findlay – during a particularly harsh winter – transformed an abandoned brewery into a soup kitchen. Since then, the Old Brewery Mission has undergone several transformations, from soup kitchen to shelter to a diversified resource by the end of the 19th century.
All proceeds from the sale of the book will go towards the Old Brewery Mission.
Take a look at the milestone events that have shaped the Mission.
Winter 1889 – During a particularly harsh winter in late 1889 and early 1890, two Montreal women, Mina Douglas and Eva Findlay, decide to offer warm meals to the city's poorest citizens.
February 27, 1890 – The women find a donor, who provides them with a vacant building that once housed a brewery. They set up a soup kitchen and the first clients are welcomed. Thus, the Old Brewery Mission is born.
1906 – The Mission launches Camp Chapleau in the Laurentians, enabling Montreal's less fortunate children a chance to go to summer camp. The camp would run for 101 years, until it was forced to close in 2007 as costs became prohibitive.
Early 1900s-1920 – Montreal is in a state of transformation. Industry is expanding. Business is booming. But not for everyone. Many families now find themselves in an urban environment in unbearable circumstances of misery and dependency. The soup kitchen has now evolved into a shelter where homeless men can come not only for a hot meal but also for a bed for the night.
1930s – The economic depression of the 1930s cause many individuals to live on the streets and in public places like parks. In Canada, between 1929 and 1933, the gross national product dropped 40% (compared to 37% in the US) and unemployment reached 27% at the depth of the Depression in 1933. To qualify for Montreal public relief, men had to produce proof of having had lived in the city for four consecutive years. New arrivals as well as seasonal and transient workers were ineligible. The brunt of the care and shelter of these men fell to refuges, like the Old Brewery Mission.
1940s-1990s –Throughout the latter half of the 20th century, the Old Brewery Mission worked to help society's marginalized men and alleviate their plight. In the late 1980s, a new unsettling trend begins to appear, as more and more women become homeless.
September 24, 1997 – The Old Brewery Mission announced that it is going to convert an abandoned parking garage into a much-needed shelter for Montreal's homeless women; one year later, the Patricia Mackenzie Pavilion (PMP) is opened.
2008 – Le Pont is launched. This program helps homeless men and women gain access to decent, affordable housing. It is a service intended for clients who have demonstrated they are ready to start building a more autonomous life.
December 13, 2010 – The Lise Watier Pavilion is opened, offering 29 permanent social housing units for homeless women who are in the process of reintegrating into society.
October 16, 2012 – The Old Brewery Mission unveils two innovative programs in its new Campus St-Laurent, located at 906 St-Laurent – Café Mission and The Annex (later to become Accueil).
October 2014 – The Old Brewery Mission launches its historic See the End of Homelessness 2014-2020 Major Fundraising Campaign and announces its six-year plan to end chronic homelessness.
Today, the Old Brewery Mission is a diverse network of facilities, programs and services at the forefront of the quest to end homelessness. It remains dedicated to providing life-saving services to those who knock at its door.