In their new community garden, residents from the Lise Watier Pavilion inspect the plants for vegetables to pick. Tomatoes, bell peppers, and string beans fill up their buckets.The small but lush, green garden sits to the side of the pavilion, in a space that was previously an unused lot of dirt. The idea came about after the women were prohibited from a Hochelaga community garden for letting a few ripe tomatoes drop to the ground before getting to them.
Cultivating Relationships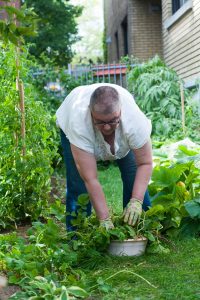 Nicole Graffe, Social Housing Coordinator at the pavilion, describes how "this garden is even better. It's a real community garden that we share with our neighbours. If they warn us that some tomatoes are ready, we tell them to go ahead and pick them! We've been able to develop a really good relationship with our neighbours that didn't exist before."
She adds that because it's right at their doorstep, more of the women join the gardening activities more often, enhancing the sense of community.
Josée, who's been living at the pavilion for the last six years, likes to garden every week. "I go because it helps clear my mind. Nicole encourages me to participate, otherwise I'd be tempted to stay inside and keep to myself," she says.
For Linda, taking part in activities like gardening is about building social skills and friendships. "The activities help me be more comfortable around people. It's easier when you have to talk to others," she says.
A Green Partnership
The Old Brewery Mission has been partnering with Sentier Urbain for four years to provide the women with activities that prevent isolation from becoming their reality. Every summer, an instructor from the Montreal organization visits the women on a weekly basis to teach gardening skills. Since last year, Sebastien Sarazin has been showing them how to prepare the soil, plant and maintain the garden and even prepare creative recipes with the crops.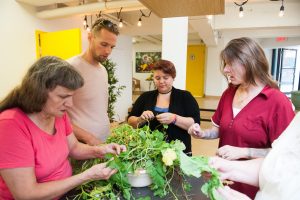 Today, they're in the kitchen to turn a radish plant that didn't bear fruit into a velvety smooth cream of radish greens soup. While preparing the ingredients, Sebastien and the ladies sip a refreshing elderflower drink made from an elderflower syrup developed right here in the kitchen, using the flowers from a tree in the yard. On another occasion, they baked a delicious zucchini chocolate cake with zucchini picked from the garden.
Sébastien is here as part of the social greening component of Sentier Urbain's programs, which aims to build relationships with partners in the community and increase the well-being of their members. "Our mission is to bring citizens closer to nature," he explains. "The women come back week after week because they're interested, which enables us to fulfill our mission. It's a matter of reciprocity. We couldn't do our work without their participation."
Although the gardening workshops will end soon with the arrival of fall, it doesn't mean the end of activities designed to break the social isolation they might otherwise face. Soon, dance lessons will be starting up again for the year, as will collective cooking sessions with neighbours in the community and various arts and crafts programs, all of which build a sense of well-being and accomplishment for these women who are rebuilding their lives.
---
Here are some of the garden-inspired recipes that the ladies made in our communal kitchen at the Lise Watier Pavilion and that you can try at home:
(*Recipes are in French)
Velvety smooth cream of radish greens soup