Mario, a former infantry corporal in the Canadian Armed Forces, didn't have an easy life. As a child, he was often given the strap at school. As a teenager, he lived on the streets of Toronto for a time, where he was violently beaten. He also has dyslexia and Tourette's syndrome, a neurological disorder that causes vocal and motor ticks.
But, none of this stopped Mario from becoming an independent, sociable man, who was deeply protective of and devoted to his family. As the eldest son, he took wonderful care of his three younger brothers. He has two sons himself and a beautiful grandson who will soon be turning two.
Yes, Mario was a strong, confident leader, who always loved to paint and read, despite his dyslexia. "I read my first full book cover-to-cover in grade nine. I could only read for 15 minutes at a time before I'd get a headache. But, I forced myself to read a little every day, and now I can read in both languages. I never used my dyslexia as an excuse," he said proudly.
After working in a number of different trades, including welding, Mario joined the Canadian Armed Forces, believing that the intensity of military life and the aspect of protecting people would be a perfect match for his personality. Unfortunately, the three years he spent serving his country only made his problems worse.
Mario was never deployed and never saw active combat. But, he did experience physical violence by other members of his regiment, which scarred him deeply and which he was powerless to prevent: "I felt like a little dog that's been beaten and whose only defense is to bark its head off."
By the time he left the Army, he was in very poor health, suffering from anxiety, paranoia, major depression, and extreme weakness. For the first time in his life, he was admitted to a psychiatry ward, at Hôpital Enfant-Jésus de Québec. "I was transferred to the psych ward in a wheelchair because I just couldn't move. It was almost like my body had given out on me. I was completely and utterly exhausted," he said.
After he was released, Mario decided to continue his treatment in Montreal. He had only $80 to his name and had gone through a painful breakup with his partner, the mother of his two sons. He met another veteran at a homeless shelter, who told him about the Sentinelles of the Street program. So, Mario made his way over to the Old Brewery Mission, where he met intervention counsellor Kasandra Szalpliski.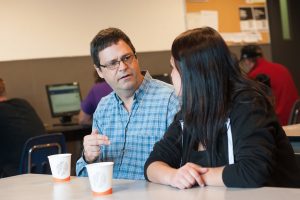 When Mario confided in her that his anxiety and paranoia were so bad that he was afraid to sleep in a dormitory, Kasandra immediately understood the magnitude of his problems. Mario admitted: "I'm someone who likes to help people, but right now I don't trust anyone. I'm afraid of my own self and of how I might react to the people sleeping in the bunks next to me."
We were able to set him up in a small, semi-private space with a locker to store his belongings in, which is what solidified Mario's decision to stay at the Mission: "I was relieved and happy to be here. At the time, I was still virtually paralyzed and could barely do anything for myself."
Less than two weeks later, Mario was able to move into a housing unit, which was a big step for him: "Kasandra supported me every step of the way in finding an apartment, a place I could really call my own. I'm very grateful to her. She even helped me do groceries and rode the bus with me to my apartment because the Mission's shuttle wasn't available at the time."
His apartment—bright, clean, and fully furnished—is located on a small, quiet, tree-lined street on the edge of the Plateau-Mont-Royal borough. It's the perfect place to rest and recover.
Kasandra also helped Mario to get on the waiting list for other psychiatric treatments. He's eager to get back to a normal life, which he's already planned out. "I want to fix my problems and then study art or law at McGill University to eventually help orphans around the world. It's a career I've dreamed about since I was a teenager, and it's what motivates me to get better," he said, adding that he's unfortunately unable to work right now.
While waiting for his treatments, Mario is slowly adapting to his new apartment and attempting to banish his dark thoughts through reading. Biographies are his genre of choice, and he especially enjoyed reading about Albert Einstein. "He was my hero when I was young," he said. "Like me, Einstein was dyslexic and a slow learner, but he overcame these obstacles. He also taught children with learning disabilities."
Mario has even started painting again. "I did an abstract painting last week. It was the first time in a long time that I'd picked up a brush," he said, recalling a time when his eldest son would sit next to him and watch him paint.
It was important for Mario to share his story. What he would really like, however, is for other homeless veterans, especially the ones who are tempted to turn to alcohol and drugs to escape their problems, to be told about the Sentinelles de rue program. "I encourage them to ask for help. The workers at the Old Brewery Mission are very flexible, understanding, and compassionate, and they know how to quickly figure out what people need and help them the best they can."
Good luck, brave Mario! We're confident you'll make a full recovery and get your life back on track.