New Book Shows Shelters Leading the Way to End Chronic Homelessness
Over 60 people gathered at the Atwater Library and Computer Centre December 12 for the Montreal launch of Beyond Shelters, Solutions to Homelessness in Canada from the Front Lines (2018), a new book published by Lorimer. Hosted by the Mission, guests heard from three of its co-authors, Matthew Pearce, Arlene Hache and James Hughes. The book is a collection of essays by community leaders in the homelessness sector in Canada who question the role and future of homeless shelters in the country.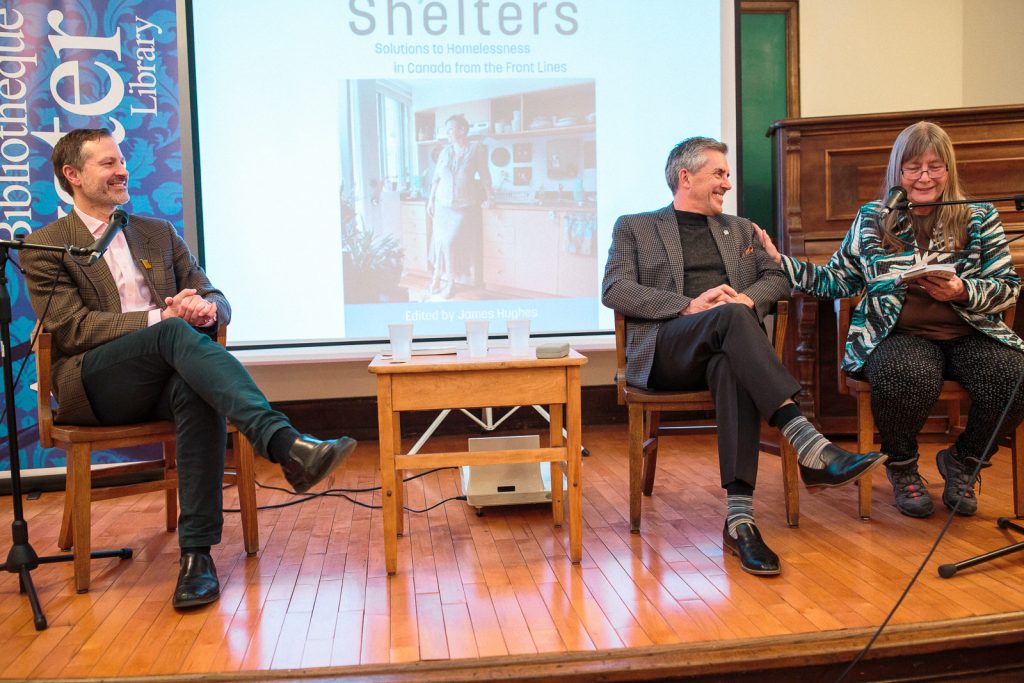 What the Authors had to Share
James Hughes, former Deputy Minister of Social Development in New Brunswick from 2008 to 2011 who now works for the McConnell Foundation, says that the days of merely warehousing homeless people out of sight and mind are gone. "Homeless shelters in Canada have changed for the better over the last 25 years. And they are poised to improve even more over the next decade. Beyond Shelters describes how shelters in Canada have become leaders in homelessness reduction in Canada and their aspirations to end homelessness in the communities they serve."
Matthew Pearce, President and CEO of the Old Brewery Mission, spoke of his experience as a contributing author and witness to major changes within the Mission. "Putting into words on a page the revolutionary changes that have redefined the Old Brewery Mission was both daunting and invigorating. Daunting because of the magnitude of the shift in thinking and the transformation to services, and invigorating because we well and truly are on the right track to ending homelessness as we know it today in Montreal," said Pearce.
Arlene Hache, Executive Director of the Centre for Northern Families in Yellowknife, shared her knowledge from years of leadership in the sector and having personally experienced homelessness in her youth. "Direct conversations with people of lived expertise of homelessness is one of the most important dialogues you can have in applying a human rights framework to housing."
The book can be purchased online at: