An Enhanced Partnership
The newly appointed police chief, Martin Prud'homme, and a score of police officers and SPVM employees took turns serving supper yesterday afternoon to more than 400 homeless men and women at the Old Brewery Mission's St-Laurent Campus cafeteria. The event was part of an enhanced partnership between the two organizations, which began a year ago, to promote a better understanding among police regarding issues surrounding homelessness.
Since February 2017, the SPVM has been drawing on the expertise of the Mission to better educate its officers and adapt its responses to the realities of homelessness. So far, 240 new recruits to the SPVM took part in complimentary training sessions provided by the Mission.
Topics covered in these sessions include:
Overview of homelessness in Montreal, including available services and resources
Understanding the issues surrounding homelessness, particularly mental health
Ways to diffuse crisis situations involving someone who is homeless or mentally ill
Throughout the year, officers also took part in awareness initiatives and volunteer activities, like serving meals. In 2017, 51 uniformed police officers volunteered their time to help serve meals to hundreds of homeless people at the Mission. Progress was monitored jointly through biannual meetings between leaders of the two organizations.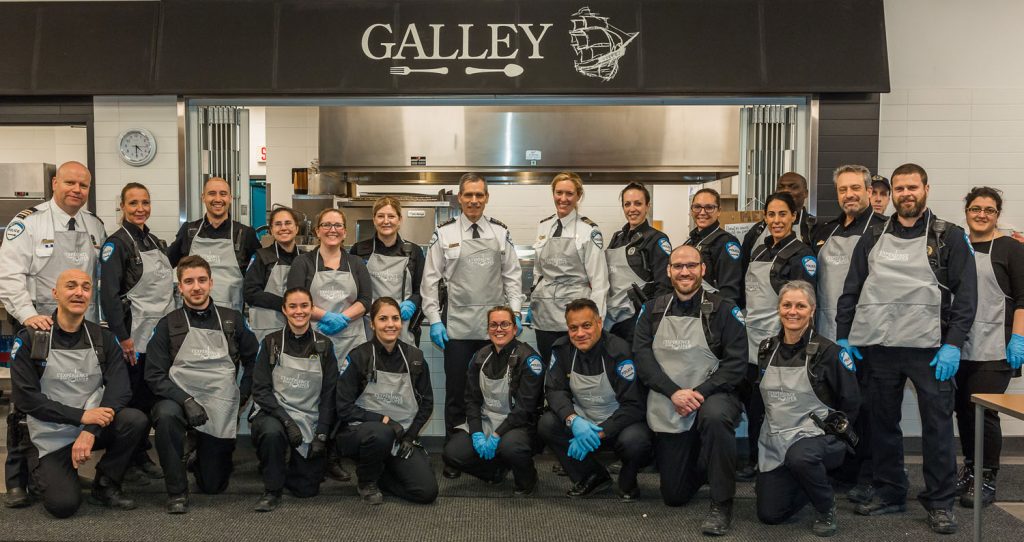 A Step in the Right Direction
Matthew Pearce, President and CEO of the Old Brewery Mission, says these initiatives help create bridges between police and homeless people by offering them opportunities to interact in positive, non-conflictual contexts. "Changing law enforcement's perception of homeless people won't happen overnight, but we're seeing signs of improvement," he says. "Trust is being built as more and more officers feel comfortable stopping by our café and various service points to get to know the people who rely on our services; it's a step in the right direction and we will continue our efforts in 2018," Pearce continues.
Police chief Martin Prud'homme says only good things can come out of partnerships with community organizations like the Mission. "The Mission is a place where Montreal's most vulnerable people can get the help they need to turn their lives around," says Prud'homme. "It's important for the SPVM to build a rapport with homeless men and women, so we can direct people to these critical resources that can help them overcome the issues that lead them to the street," he says.
Moving forward, the Mission will build upon its enhanced partnership with the SPVM to continue raising awareness of the issues surrounding homelessness through special workshops, hands-on activities and learning initiatives.
---
Read the complete press release here.