Emergency Shelter, Food & Clothing
No human being can thrive without first fulfilling life's basic necessities. When those needs aren't met, it takes a heavy toll on a person's mental and physical health, impacting them as well as our community at large.
Open 24/7, 365 days a year, the Mission's emergency services are a gateway to transition programs and resources driven by a network of professionals and partners whose collective goal is to end chronic homelessness.
At both the Mission's Webster and Patricia Mackenzie Pavilions, clients have access to:
Secure surroundings
Respectful treatment
Nourishing meals
A clean bed
Hot showers
A regular change of clothing
Access to counsellors who will help them reintegrate into society
Café Mission Keurig®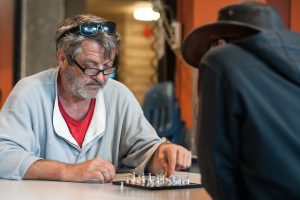 Café Mission Keurig® is no ordinary coffeehouse. Every weekday, from 8 a.m. to 4 p.m., the Café opens its doors to Montreal's homeless men and women, offering them free coffee, internet access and a welcoming place to go during the day. More importantly, since the Café opened in September 2012, it has helped to gently move many men and women experiencing chronic homelessness into the Mission's transition programs.
– The Power of Conversation
The Mission's counsellors can engage in informal conversations with Café Mission Keurig®'s customers, building trust and opening a dialogue. Over coffee, homeless people can get practical information about employment, housing and health care. With each successive visit they learn how to rebuild their network within mainstream society.
– Breaking Down Barriers
Located on Saint-Laurent Blvd., the friendly Café is Montreal's only coffeehouse that welcomes both the public and the homeless, breaking down barriers and isolation. It offers an inclusive environment to the approximately 150 homeless people who stop by the Café each day.
Shuttle Bus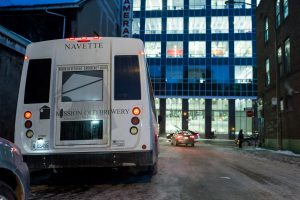 The Old Brewery Mission's shuttle service is at the heart of our winter protocol, which begins each year on December 1. A driver and a crisis counsellor drive around the streets of Montreal between 2:30 p.m. and 3 a.m. every night, inviting homeless men and women to be transported to resources in the city that will ensure their safety for the night.
Last winter, close to 6,500 homeless people used the Mission's shuttle service.
Please make a secure personal donation by clicking on the button below, or donate goods and items the Mission needs on a regular basis.