Groom-to-be Antonio, third from the right, with a group of his friends gather for a picture before serving supper to hundreds of homeless men and women.
Serving 600 nutritious meals to homeless men and women isn't your usual bachelor party celebration. But then again, Antonio Di Cintio isn't your usual bachelor. "Spending hundreds of dollars on a typical bachelor party isn't my style," says Antonio.  "All I want is to be with my friends and make a difference in the lives of others."
On Saturday Sept 16, the groom-to-be gathered his best friends to take part in the Mission's Supper Experience. Held at our Saint-Laurent Campus cafeteria, this hands-on activity requires a donation of $2,000, which can be collected through fundraising efforts or personal donation.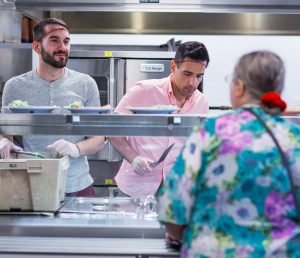 "I chose the Mission because it offers sustainable solutions to end homelessness through its transition programs, which help people reintegrate into society," explains Antonio. "So, the idea of having my friends chip in maybe half of what a stereotypical party would cost for a good cause was a no-brainer."
"We're used to hosting groups that range from work colleagues who come for team-building exercises to friends and families who come for the experience of serving supper to our clients, but this is a first!" notes Kim Nguyen, Director of Development, Annual Gifts and Administration at the Old Brewery Mission. "I was very excited to learn about this initiative, not only because it's a great idea but it can also be an inspiration to other like-minded individuals. Through their actions, they are saying that there's no event too big or too small where people can make a difference in the lives of homeless men and women. I applaud them for it."
Antonio's actions make a statement on their own, and his message is clear. "To anybody out there having a get together, for any reason, be it a bachelor or bachelorette party, a birthday party—even if it isn't a party!—I think there's no better opportunity to get a group of your closest friends and family together to help someone get through their day. It only takes a few small hours to serve supper and it's easy to raise $2,000. At school, for example, if you get 100 people to donate just $10 each, you suddenly find yourself with $1,000. It is do-able. It's just a matter of being persistent and people will support you. And it's fun! This is a beautiful place with beautiful people."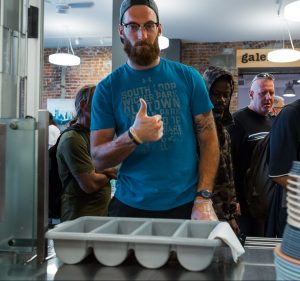 When Antonio asked his fiancée what she thought of his idea, she wasn't surprised. "She said to me, 'This is what makes you, you! You encourage those around you to step out of their comfort zone, and that brings out the greatest learning in all of us.'"
The Old Brewery Mission would like to extend its heartfelt thanks to Antonio Di Cintio and his friends who participated in the Supper Experience. And of course, we wish him and his bride-to-be, a lifetime of happiness!
Book your Supper Experience today!