When our Research Department found that 50% of our resources were dedicated to only 15% of shelter users—those who are chronically homeless—we knew something had to change. Since then, we've transformed our services by shifting to a housing-first focus; housing today represents our largest service offering.
Painting a Picture of Homelessness
In collaboration with McGill University since 2010, the research team has been working to paint a picture of homelessness that reflects the reality people live and why they become homeless. They turn raw data into valuable information that helps guide the way we respond to homeless individuals in a way to get people permanently off the street.
Hannah Brais, Research Coordinator at the Mission, says that before she can get to combing through data and writing reports, a big part of her work involves searching for data and the people who hold it—the clients who use the services. "A typical day might involve chasing someone down for an interview or putting up recruitment posters to speak to participants who've used the services," she says. "Depending on how a research project is designed, we might rely on data from the Homeless Individuals and Families Information System (HIFIS) database, but we often rely on qualitative data to understand peoples' experience and trajectories. We conduct interviews within projects and collect demographic data at the same time, for example, during interviews for the Royal Victoria overflow shelter, and we interview staff as well."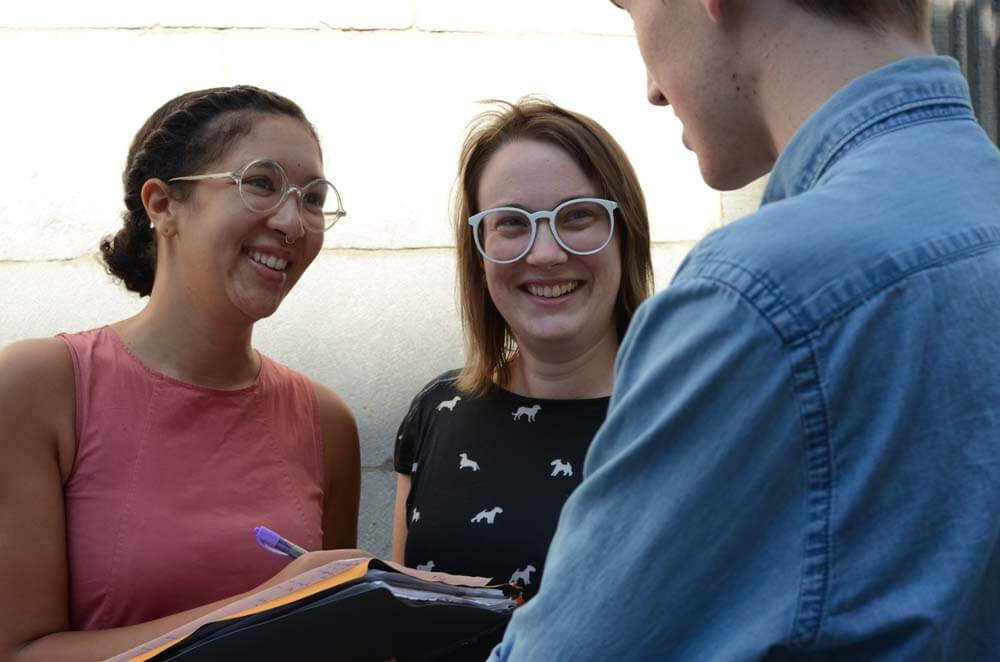 Data Culture

Hannah points out how much data culture has changed and improved recently not only within our organization but also across partner organizations. "There's an understanding that everyone who touches the data has to be on the same page in order to gather consistent, quality information," she explains.
But in order to turn numbers into valuable knowledge, the data must be reliable, and that's just the promise of HIFIS 4, the new and improved version of the database that is starting to be shared across the sector in Montreal. "We've been implementing HIFIS 4 here at the Mission, La Maison du Père and Welcome Hall Mission, and that's only the beginning," says Hannah. "We're going to launch the database at the Patricia Mackenzie Pavilion (PMP) and more women's organizations want to join us in sharing data with HIFIS, like Chez Doris and Le Chaînon."
A Reflection to Consider
The database is also launched within Projet Logement Montréal (PLM), a housing program that operates across organizations in Montreal, to improve what we know about clients that are housed and why some don't stay housed. "We need to know more about specific groups if we're going to continue to provide and improve tailored services that respond to their needs, so we're conducting interviews with participants of our Sentinels of the Street program for homeless veterans, for example," explains Hannah.
The department also conducted research on the winter overflow unit at the old Royal Victoria Hospital which was a first-of-its-kind collaboration between Montreal's largest homeless organizations, the City of Montreal and the CIUSSS. "The purpose is to understand the user experience and is very much an exercise in putting a mirror up to the services," adds Hannah.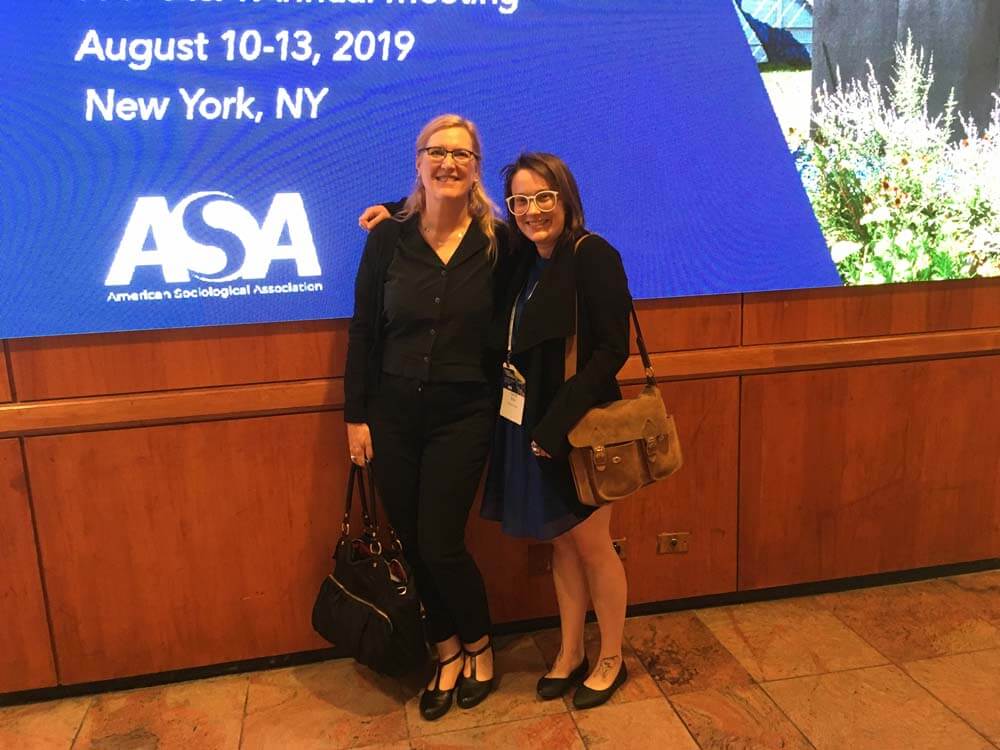 As with any research, there is a fine line between gathering necessary information and respecting participants' privacy. Working with vulnerable people who've experienced trauma can bring up its share of ethical questions. "Even if they're an open book and lay everything down on the table, we ensure the basic research dignity of each person and protect their confidentiality, so we'll remove any identifying information from the research we publish. We'll also meet with candidates at the location of their choice, usually at whatever resource they frequent in the community, so that they feel as comfortable as possible," says Hannah.
Understanding Homeless Women's Trajectories
If there's one group that requires more research, it's homeless women, and our research team is doing something about it. "There's an underwhelming amount written about women's homelessness," says Hannah. "We're conducting interviews at the PMP with McGill to understand how trauma is experienced by women who are in transitional housing or emergency services. For them, walking into a melting pot of strangers at an emergency shelter can be a traumatic experience in itself and we don't shy away from taking that into account."
Most recently, Hannah co-authored The State of Women's Housing Need & Homelessness in Canada. The report, a collaboration between the Canadian Observatory on Homelessness, Women's National Housing and Homelessness Network, Keepers of the Circle and the Canadian Alliance to End Homelessness, explores the causes, consequences and experiences of homelessness among women, girls and gender diverse peoples.
Evolving as a Community
Once the data is analyzed and reports compiled, the findings are disseminated to the scientific and not-for-profit community simultaneously. For the Mission, the objective is to inform decision-making so that services evolve and keep people housed.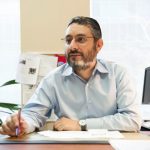 "In order to improve services for homeless men and women, we first need a better understanding of what they've been through and what they deal with every day," states Georges Ohana, who oversees the department. "Using rigorous research and analysis methods, our team produces insightful results as part of a comprehensive strategy for achieving our ultimate goal, which is to put an end to homelessness."
The dream team includes Georges Ohana, Director of Housing, Urban Health and Research, Dr. Kate Maurer at McGill's School of Social Work, Hannah Brais, Research Coordinator and Floriane Ethier, Data Quality Assurance Officer. Together, they publish the research in journals and share findings at a multitude of conferences.
IN 2019-2020
4 journal articles published or in progress:
Fewster, B., Brais, H., Gregory, S., Paulin, M. Working Together in Montréal to Improve Veterans' Well-Being: A Canadian Perspective. Journal of Humanistic Psychology.
Maurer, K., Brais, H., Arcia, N., & Duchesne, A. Predicting increases in pre-senior and senior homeless populations to inform adaptations in shelter service provision. Manuscript in preparation.
Brais, Hannah. Beyond a Duty to Consult: Best Practices and Case Studies from the Front Line of Canadian Indigenous Partnerships. Report. Ottawa, ON: Canadian Housing and Renewal Association. November 2019.
Maurer, K., Brais, H. Inside the Open Door: Considerations of Othering amongst Women Accessing an Inclusive Transitional Shelter Service. Manuscript in preparation.
Presented at 6 conferences:
Canadian Housing and Renewal Association's 51st National Congress on Housing and Homelessness, Victoria, BC (April 2019)
Planners Network Multi-City Conference: Resisting Displacement and Dispossession, Montreal (June 2019)
Society for the Study of Social Problems Annual Meeting, New York City (August 2019)
American Sociological Association Annual Meeting, New York City (August 2019)
Canadian Association on Gerontology 48th Annual Scientific and Educational Meeting, Moncton, NB (October 2019)
National Conference for Ending Homelessness, Edmonton, AB (November 2019)