In January 2017, Jimmy Cloutier—who struggled with serious mental illness—died during a fatal confrontation with Montreal police just outside of the Mission's walls. This tragic event served as a catalyst for the Old Brewery Mission's collaborative partnership with the Service de Police de Montreal (SPVM) aiming to improve police-homeless relations.
Matthew Pearce, Mission President and CEO, played a pivotal role in establishing the partnership. "Events like the death of Jimmy Cloutier are unacceptable. As an organization, the Mission deals with homeless individuals every day, providing services that aim to lift them out of homelessness in the most dignified way possible. So, we thought what better way to improve relations than to combine our knowledge of intervening with homeless people with the SPVM's proximity to them in the public sphere," he said.
This year marks the 4th anniversary since the Mission staff has been sharing their expertise with new police recruits. Last year alone, 880 recruits received sensitivity training and gained a better understanding of the realities faced by Montreal's homeless men and women. The collaboration is vital to not only avoiding more tragic situations like the one that led to Jimmy Cloutier's death, but to improving overall relations. It also helps police to act as a referral network between the street and homeless resources such as the Mission.
Breaking Down Barriers
To build trust and relations with people experiencing homelessness in an informal and positive atmosphere, SPVM officers gather several times a year to serve hundreds of meals at the Mission as part of our Supper Experience program. On February 3, police chief Stéphane Caron participated in the meal service upon invitation by former police chief and member of the Quebec National Assembly Ian Lafrenière, along with other notable participants including minister Lionel Carmant, LaPresse journalist Katia Gagnon, TVA reporter Jean-François Guérin, Lieutenant-Colonel Bruno Plourde and Honorary Colonel Colin Robinson.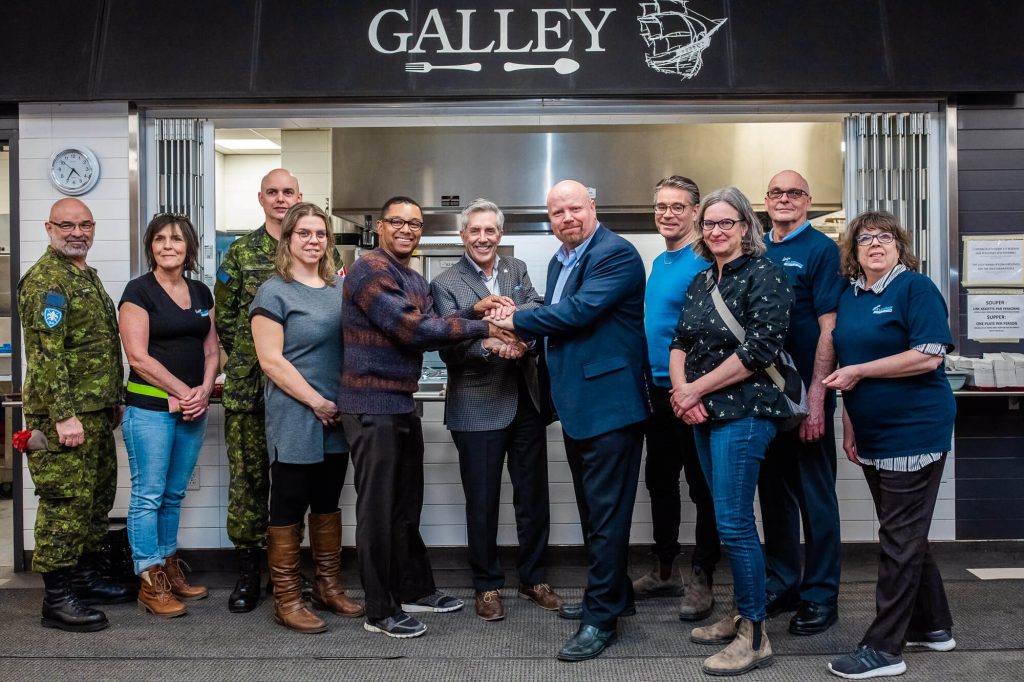 Ian Lafrenière explained that he likes to gather diverse groups of people to serve meals every year around Valentine's Day to mark the occasion. "I like to spark positivity. My hope is that bringing them inside the walls of the Mission will raise awareness of the issues of homelessness, and challenge perceptions of homeless people," he said.
The group of public figures, uniformed officers and members of the armed forces piqued interest on the part of those eating dinner at our Saint-Laurent Campus cafeteria that evening. "The fact that police officers and elected officials are here serving meals must mean that they're thinking about us, but I still wonder if they're doing enough to really help people get off the streets," said Rui, who is hoping to find affordable housing with the help of the Mission's services.
A Positive Shift
The Mission's research team is currently working with the University of Toronto to evaluate the training model, understand its impact and help guide future training sessions.
"We don't have data yet on the impact of our collaboration, but we have observed a noticeable improvement in the way police and our clientele interact — police-homeless relations are much more positive, constructive and respectful," explains Émilie Fortier, Director of Services at the Saint-Laurent Campus. "The police working in downtown Montreal have gotten to know us and are much more likely to bring someone in from the street to get help from our services than previously," she adds.
Looking forward, we will continue to work to enhance police-homeless relations and break down barriers between the Mission, SPVM officers and those experiencing homelessness.