It was a secret that had been under wraps for weeks. And, now, on the night of the bachelor party, it was time for the big reveal.
Dr. Andrew Mouland eased his car into Clark St.—a street no bigger than laneway—that runs beside the Old Brewery Mission. Several residents of the Mission were outside on the street on the warm summer evening as Andrew parked the car.
Lee, the groom-to-be, looked over at his best man quizzically and said, "Hey, what are we doing here?"
As the other groomsmen and Lee's friends started to show up, it soon became very apparent that this was the bachelor party surprise.
"All of his friends had thought that serving dinner to those in need would be the perfect thing to do," says Andrew. "And it was. Lee's a big-hearted guy who volunteers his time on a regular basis. I think he was a little teary-eyed when he realized what we would be doing. He was so touched that we had arranged the Supper Experience at the Mission for his bachelor party."
Andrew and Lee's friends had spent several weeks fundraising for the Supper Experience through the Mission's new (soon to be launched) online peer-to-peer fundraising platform. David Leduc, the Mission's Executive Director of Development, had helped Andrew get set up on the platform. David was there on the night of the bachelor party to greet the group, give them a tour of the Webster Pavilion and tell them about the vital work the Mission was doing.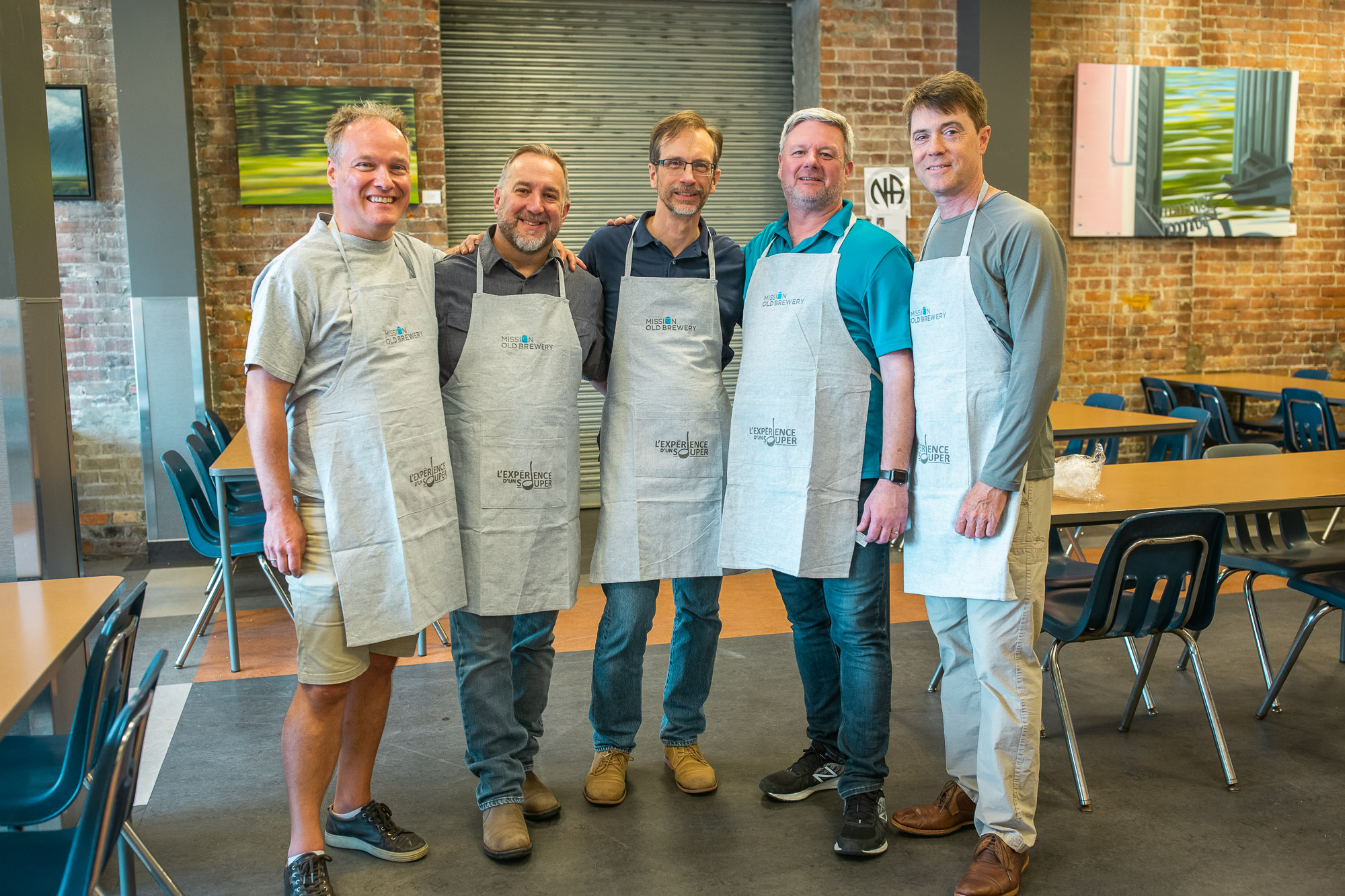 "It was really eye-opening," states Andrew. "I learned so much. You think that a shelter is a meal and a bed, but the Old Brewery Mission is doing so much more. They're getting people the help they need to get back on their feet, whether it's counselling, clothing, budgeting their finances or access to affordable housing. The Mission is really avant garde in its approach to getting people off the streets and reintegrating them back into the community. It's a model for other organizations across Canada."
Soon the group was shown to the cafeteria and the fun began. Andrew, Lee and Lee's friends donned their aprons and got to work. "There was someone dishing out the meat, Lee was our "French fry guy" and I was on gravy duty," explains Andrew. "People started flowing through and it was a challenge to keep up, but we all worked together and the staff at the Old Brewery are amazing. Everyone just jumps in to help each other. I think we served about 300 meals that night."
Not only was Andrew impressed with the care and dedication of the staff, but with the Mission's clients as well. "The people we served were very sweet, they just were down on their luck. It's a humbling experience. Homelessness can happen to anyone. You realize how lucky you are. Lee, and all of us, we were really appreciative of the experience."
And, it was such a positive experience that Andrew is considering doing it again, this time with work colleagues. His words of advice for people considering the Supper Experience? "Two words," laughs Andrew. "Do it."