By the time Normand got to the Mission, his life was hanging by a thread. After nearly 38 years of struggling with alcohol and drug abuse, he found himself going from one Montreal shelter to the next. He was surviving on the bare essentials: food, shelter and clothing. He knew that he couldn't go on this way for much longer. He had lost two marriages, two houses, his job, and eventually lost touch with his daughter, his friends and himself. Normand had given up on life and contemplated ending it all.
A Realization
Living with two life-threatening diseases, hepatitis C and HIV, Normand's health was rapidly deteriorating. He began hepatitis C treatment as part of the PASS Program at the Mission, which offers a medical follow-up and bed in a small private space to rest and recover. Positive results indicating that his hepatitis C was diminishing and encouragement from his PASS counsellor were enough motivation to keep Normand going with the treatment for six months.
In and out of the mission for two years, Normand came to a realization. "The staff here never gave up on me, despite everything, and I began to want to listen and take action," he explained. "I saw that I had the opportunity to get myself out of a bad situation and seeing how well they were taking care of me, I decided that I had to make efforts in return. I knew I was at the right place because I felt like I was still worth something."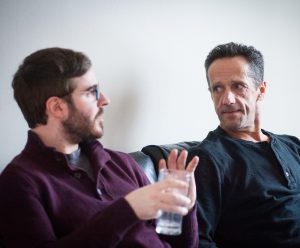 After the hepatitis C treatment, he continued his efforts with the help of intervention counsellor Jean-François Lamothe to look for a place of his own and begin HIV treatment.
When Normand started working with Jean-François, he was still at the Mission. They began talking about getting him an apartment through the social housing program Projet Logement Montreal (PLM), and perhaps a job down the line. According to Jean-François, getting mentally prepared to move into an apartment, to taking on the responsibility of living independently can be a lot to ask of someone who has not lived alone and between closed walls for a long time, but Normand pulled through.
"Normand had done a lot of work before moving into his place, notably hepatitis C and HIV treatment, but he also puts a lot of effort into abstaining from drug and alcohol use, which he doesn't mention as much, but he really does," Jean-François proudly explained.
The One Per Cent Rule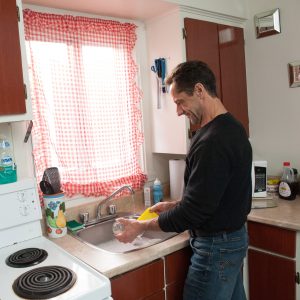 Though Normand moved into a quiet Ahunstic apartment, he is not alone. Jean-François visited him once a week at first, and eventually once a month. "At first, I didn't really appreciate his visits because I wondered what good came of them. Jean-François would remind me of his one percent rule: it's better to do one percent than to fall back by one percent. I was mentally and physically exhausted, but I kept that in mind and started small. I would clean something here and there between resting. I started taking pleasure in doing my dishes and keeping things tidy, and that satisfaction amused me!"
Jean-François stated, "Normand has made a lot of progress since he moved into his place. He takes pride in showing me his tidy apartment and how he changed the decor. Now, I don't even have to meet him at his place anymore to make sure he has everything he needs, so we often meet at the local café."
Finding la Joie de Vivre
Normand's place is in a quiet, residential neighbourhood near many conveniences, like the gym he frequents regularly. Most importantly, he's not too far from his daughter, Lindsay, and her three children, whom he reconnected with during his recovery. Now, he sees his daughter and grandchildren almost every day and gets to help take care of them.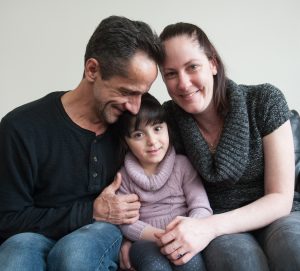 "My family gave me back my joie de vivre when I understood that I was always loved despite everything. I dedicate myself to my daughter and her kids every day and take advantage of the opportunity to take my mind off of all the negativity on my conscience. I made the final decision to abstain from alcohol and drugs, but I have to focus on what's good to keep succeeding at it."
Lindsay is grateful to have her father back in her life as well, and explains how they help each other. "I've been on disability, so my dad has been a huge help. If it wasn't for him, I'd probably be in the hospital resting. He's here pretty much every day. I pick him up and he helps me with dishes, sweeping, mopping, laundry, lifting anything heavy, since I hurt my shoulder. We pick up groceries together and then I cook for everyone, so he doesn't need to cook.
"My dad has had his difficulties, but I knew one day he would make it. He's here for my kids and I couldn't be happier. My kids will know him for the man he really is, and that's a man with a heart of gold."
Lindsay has many happy childhood memories of her father, when they would play in the snow and build igloos in winter. "One time, we made an eight-foot snowman and had to put the head on from the bedroom window! We had our picture taken for the local newspaper," she recalls fondly.
Lessons Learned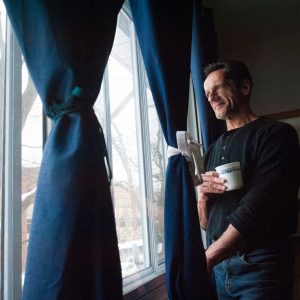 Jean-François believes that the turning point for Normand was to get up one day and say, "I'm over with this addiction," and recognize that the power to improve his life was within him.
Normand explains that the key to his success has a lot to do with the routine he established for himself. This includes taking care of his home and his family, and exercising regularly. "I go to the gym to keep myself busy and to feel good. It's my medicine!" he exclaimed. "I'm also paying attention to my diet which helps me take my medication three times a day. All the effort makes a huge difference. I can hardly believe that my hepatitis is completely cured and that HIV is barely detectable in my blood today."
Normand wants to share his story in hopes of helping others in similar situations. His most important lesson and message for others, he says, is that "it's okay to make mistakes, but it's also okay to forgive yourself."
---
Lindsay recently signed a letter sharing her dad's story to help others facing similar issues and to raise awareness about homelessness. Read it here.