A nation-wide study revealed that at least 2,500 veterans in Canada are homeless. In Montreal, veterans account for about 6% of the homeless population. Thanks to our Sentinels of the Street program, implemented one year ago with the support of the Fondation québécoise des Vétérans, VETS Canada and the federal government, homeless veterans have a place to turn to for access to suitable housing and psychosocial support services tailored to their needs.
Here are the results of our program providing affordable, permanent housing for ex-soldiers in need—the first of its kind in Quebec.
After more than one year since the program was launched, 16 homeless veterans have reintegrated into the community after years of living on the street and on the margins of society.
Mario Gagné, one such veteran, experienced homelessness on the streets of Montreal and credits the Mission with saving his life. "The workers here are very flexible, understanding and compassionate. They determine what each person needs and they do their best to help," he explains. Read Mario's full story here.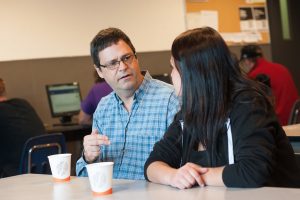 2017-2018 Key Findings
Last year, we welcomed close to 3,000 homeless men and women. Of these, 45 claimed to be a veteran. The study found that:
Veteran homelessness is the result of cumulative trauma experienced over a long period of time, approximately 10 years.
Many experience chronic homelessness, living under bridges and encampments around the city.
Recruitment is a major challenge: most homeless veterans do not seek the services of shelters or resources like ours, requiring a more proactive approach.
Substance abuse and persistent mental health problems not necessarily linked to Post-Traumatic Stress Disorder (PTSD) are common.
Housing stability requires ongoing support: our counsellors make regular home visits to check-in and assess the person's overall health and reintegration.
Crucial Support from the Community
Matthew Pearce, the Mission's CEO, explains the program's success hinges on building trust with veterans and continuing to engage partners from various sectors. "We rely on Veterans Affairs and VETS Canada to confirm a person's veteran status; our counsellors draw on the clinical expertise of la Fondation québécoise des Vétérans to better understand the issues they face, while we count on private property owners to partner with us to provide decent, affordable housing—collaboration is key," he says.
Lieutenant-General (retired) Yvan Blondin, says that "at the Fondation québécoise des Vétérans, one of the things we could do best was to partner with the Mission. Together, when we get one veteran off the street, it's a success."
Major funding is also provided by the Innovation Fund of the federal government's Homelessness Partnering Strategy (HPS), which funds projects that focus on supportive housing as important measures to help people overcome homelessness.
Our partners include:
VETS Canada (Veterans Emergency Transition Services), a non-profit organization that offers emergency transition services for veterans at-risk or experiencing homelessness.
Veterans Affairs Canada (VAC), which helps connect homeless veterans to community resources and government assistance programs.
The Royal Canadian Legion's Quebec branch, which provides veterans and their families with services including housing assistance, mental health, assistance with VAC and financial supports.
Yesterday, twelve volunteers from Revision Military, including Ben Wearing, Director of Commercial Sales, helped serve over 400 meals at our Saint-Laurent Campus cafeteria. This company, which produces protective equipment that saves lives, is the first private sector company to invest in Sentinels of the Street.